06.18
Qui "Snuh" LP/CD/Cassette set to release on August 3rd!
"In their decade-and-a-half of existence, the duo has morphed from a clamorous noise rock duo to a daring and melodic band making some of the most compelling and enjoyable experimental rock being made today. So it's both a happy and unfortunate happenstance that many people know them mostly as 'that band David Yow was in for awhile.' Unfortunate because they're so much more than that, but happy because hell, at least more people know who they are."
— Dangerous Minds
Made up of vocalist/guitarist Matt Cronk and drummer/vocalist/keyboardist Paul Christensen (also of Hepa.Titus), LA-based Qui is a two-man band whose music manages to span a vast and eclectic range of styles from jazz to noise to classic rock to punk, with an air of absurdity ever-present. Known for their live antics and beloved for their iconoclasm and refusal to settle into any one scene, the pair are friends of/have played with Melvins, Marnie Stern, Sebadoh, Head Wound City, Red Fang, Retox, Gay Witch Abortion, and Zu, to name a handful. Their peculiar musical approach was enough to enlist David Yow (of The Jesus Lizard, Scratch Acid) as a past member of the band, who still collaborates with and supports them today. Their upcoming release, Snuh, has no shortage of heavy-hitting collaborations either, featuring cameo performances from Justin Pearson (The Locust, Retox, Head Wound City, Dead Cross), Trevor Dunn (Mr. Bungle, Fantomas, Melvins, John Zorn), Dale Crover (Melvins) and Adam Harding (Dumb Numbers).
Qui's newest LP, Snuh is being released by Three One G Records on August 3rd.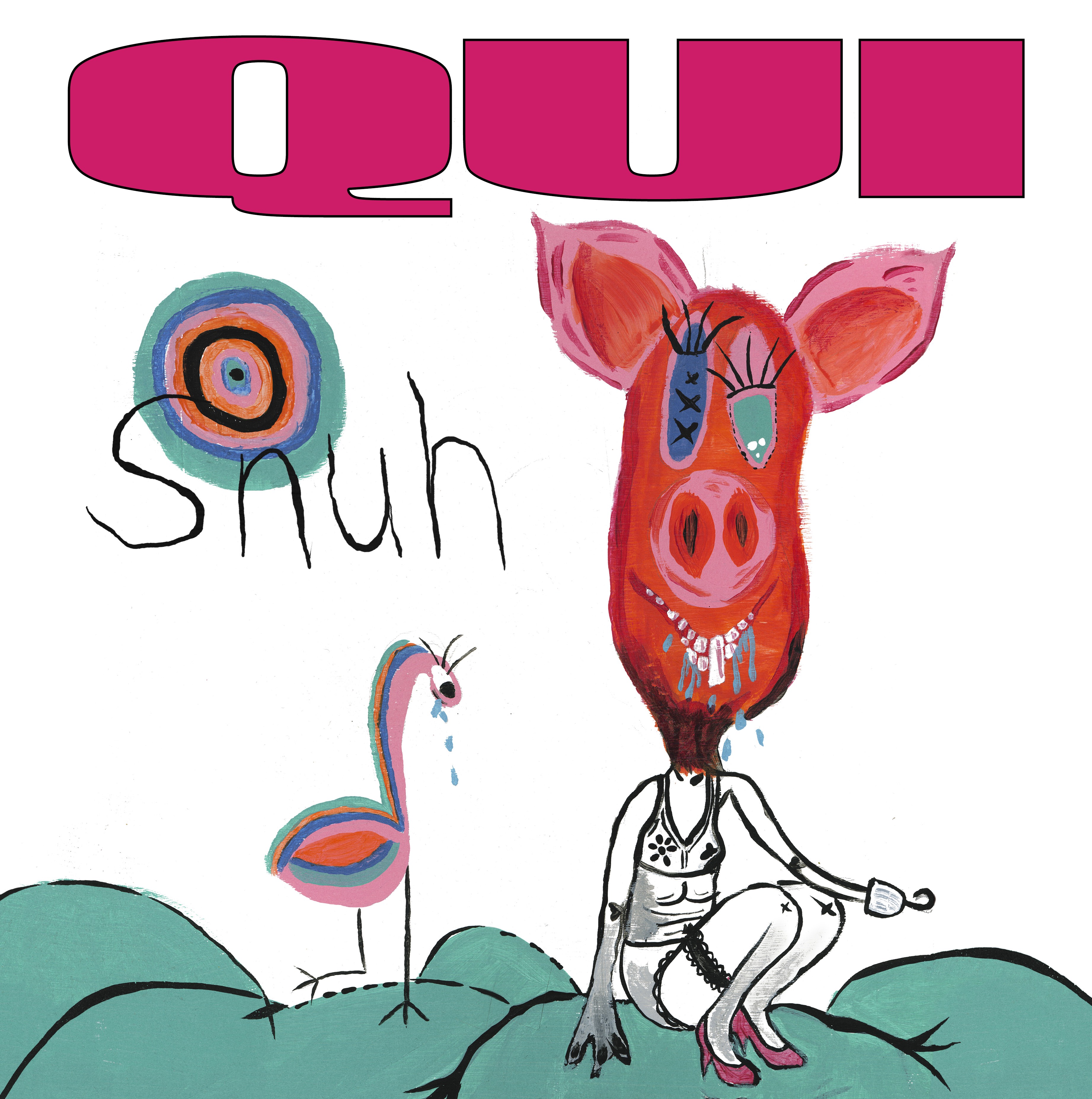 Snuh was recorded, produced and mixed at Sound of Sirens, by Toshi Kasai. "You Can Call Me Shiny," "Hey Brother," and "Forgivement" co-produced by Toshi and Dale Crover (Melvins). Mastered by Nick Townsend at Townsend Mastering.
Snuh will be available digitally on iTunes as well as physically through Three One G Records on 100 pink and 200 black 180 gram vinyl. Free CD will be included with vinyl purchase. Preorder here.
Records will also be available via Antena Krzyku, Macina Dischi will be releasing the album on CD, and Sweatband Records will be releasing a limited run of cassettes.
Qui's latest LP, Snuh, extrapolates on their genre-bending brand of avant-garde rock. Working again with long time producer Toshi Kasai, the duo has integrated more shades of unlikely forms and timbres along with their always-present penchant for abrasive noise punk. Snuh is at once both playful and belligerent, switching abruptly from heavy to soft, screaming to crooning, sweet to hostile.
Snuh LP:
Pomp & Circumstance
You Can Call Me Shiny
Escape From Now
Mowing Machine
The Stink of Her Eyes (a)
Icky Mouth
Hey, Brother
Pumpy Circumstance
How Much Many More
The Stink of Her Eyes (b)
Forgivement
15 Little Arguments
Trust Force
Come, Come
Discography:
Qui/Malclango split, Subsound Split Series, 2017
Qui/Ultrakelvin split, Antena Krzyku/Macina Dischi, 2017
Qui w/ Trevor Dunn, Joyful Noise Recordings, 2017
Countdown to Ecstasy, Valley King Records, 2017
How To Get Ideas, Warners'/ADA, 2016
Dale Crover, Qui – Big Uns / Shame On You, Joyful Noise Recordings, 2015
Hepa.Titus, Qui – I Love You Less Than Anything / Daddy, Daddy, Daddy, Cobraside Distribution, 2015
Secret Fun Club, Qui- Split, Three One G, 2014
I Definitely Love You, Joyful Noise Recordings, 2014
Life, Water, Living…, Cobraside Distribution, 2013
Qui/Mike Watt + The Secondmen- Awkward Human Interest / No One, ORG, 2012
The Little Golden Blanket, Infrasonic, 2009
Today, Gestation / Freeze, Infrasonic Sound, 2007
Love's Miracle, Ipecac, 2007
Baby Kisses, Heart of a Champion, 2003