08.19
Bobby Bray from INUS, The Locust, Holy Molar exclusive Spotify playlist!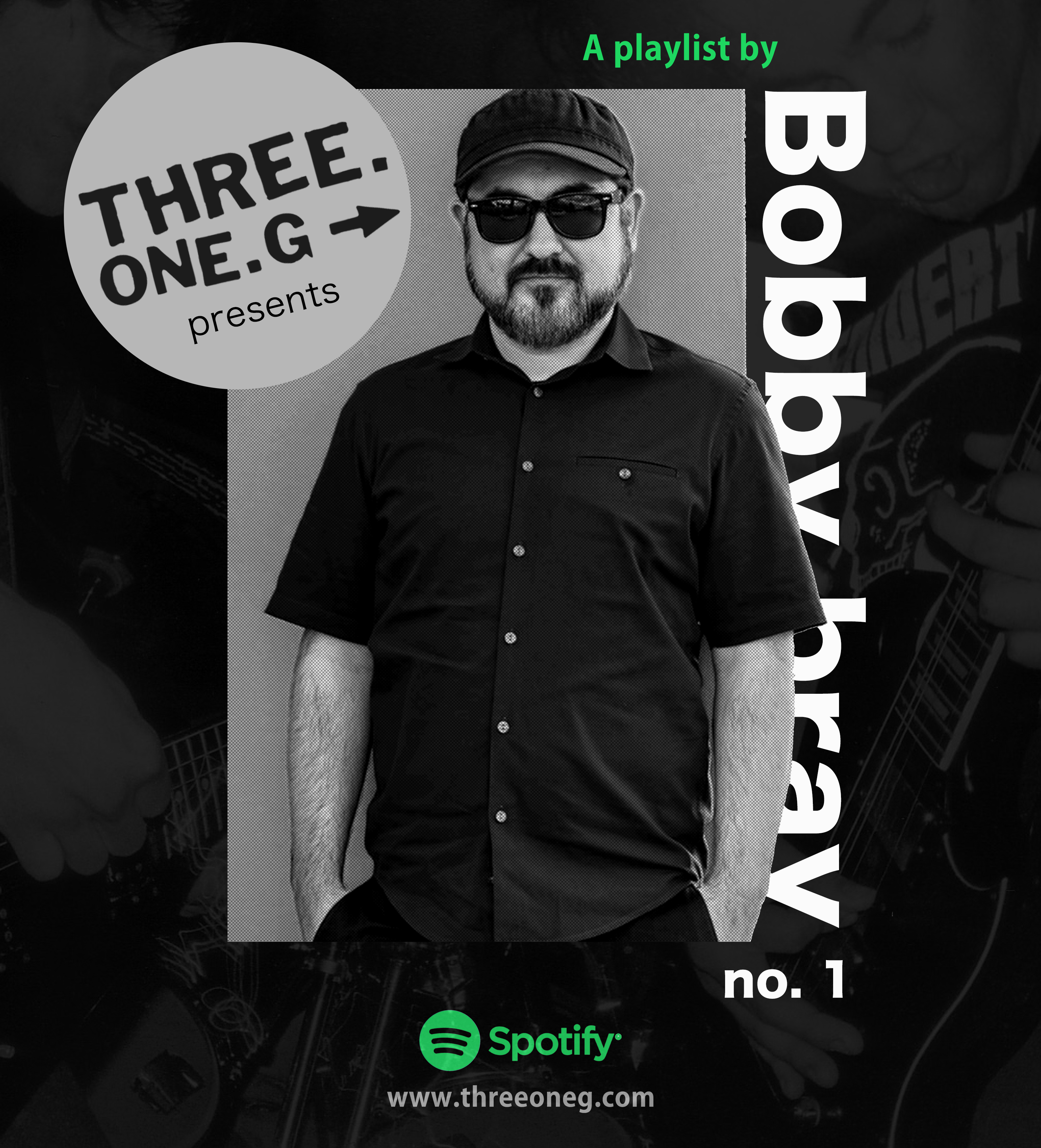 As Three One G is releasing The Institute for Navigating the Universal Self's (INUS) album Western Spaghettification this list of songs is a combination, make that a celebration, of music that somehow relates to INUS and/or Three One G and/or is just outstanding insane music/bands people should check out—if you like outstanding insane music that is. If you are reading this via Three One G then I assume you do!
I have to admit it was challenging to limit the list to songs on Spotify, so I included some links to songs on other platforms as well.
"Euro Gulagland" by The Toilet from their album Bullshit Makes Flowers Grow.
First of all these are some of the finest titles and band name ever! The Toilet is on a fantastic label called Mutant Swing out of Sweden that puts out many like-minded releases. This particular song is a masterpiece of editing and is a perfect blend of juicy synths, glitch effects traditionally used by Djs, and wacky samples creating refined ear candy that will leave you thirsty for more. Go ahead and travel down the Mutant Swing rabbit hole—most of their stuff is on Bandcamp. Be sure not to miss Michael Intergalaxon's album The Art of Bird Mutation which has some mind bending tracks such as Kemo Sabe.
kemo sabe from The art of bird mutation (MUSW010) by Michael Intergalaxon
"Absurdly Ineffective Barricade" by Yowie from their album Synchromysticism.
Yowie is one of the craziest post-prog-math bands out there, based outta' St. Louis. This song gives me frisson (goosebumps / hair-on-back-of-neck-erection). INUS was stoked to play with them the only time they ever came to San Diego.
"Ted's Reverie" by Renaldo & The Loaf from their album Songs For Swinging Larvae.
Renaldo & The Loaf (RATL) is perhaps my favorite band of all time! I find their weirdo falsetto inspiring and tantalizing timbres refreshing, even though most of their music was released in the early 80's. Those albums were on The Resident's record label Ralph's Records. (If you are into weird music and haven't gone down the Ralph's Records rabbit hole yet you are missing an important part of history.) I actually did a cover of the RATL song Medical Man under the name Henk back in 2007 for a RATL remixes and renditions double album called The Music is Taboo.
The Music Is Taboo – Volume 1
"Identity Exchange Program Rectum Return Policy" by The Locust from Plague Soundscapes.
One of my favs to play!
"Cavity Search" by Holy Molar from Cavity Search (31G).
I've been thinking that Western Spaghettification is probably the craziest, most unhinged music I've ever worked on. But then I remembered certain Holy Molar songs that are probably the most ridiculous music I've ever worked on. I played synths and funny sounds in Holy Molar. I like to think that this particular song has the fastest orchestra hit samples ever pushed on a sampler, although I'm not sure that's something I should be proud of.
"Der Werewolf Breath" by Holy Molar from Cavity Search (31G).
I sure do miss jamming with Maxamillion Avila—such a badass drummer! I remember seeing Antioch Arrow for the first time when I was like 15 or 16, back when I thought Deicide's Legion was the most intense music I could get. The show blew me away, and I could never have imagined being in Holy Molar with Maxamillion several years later.
"Too Bad You're Gonna Die" by Antioch Arrow off of Gems of Masochism (31G).
From their 3rd album originally released in 1995. I remember people turning on them cause they got too weird. I thought it was brilliant at the time—still do!
"Technically You Puked on the Couch" by Sleeping People from their self-titled album.
Back in the day Sleeping People and The Locust toured together and I knew I had to be in a band with the drummer, Brandon Relf. So we started Innerds, which became INUS later on. This song is off one of their earlier records, released in 2005.
"The Government Knows" by KNOWER from their album Life.
Knower and Louis Cole/Genevieve Artadi's other projects are another rabbit hole worth checking out—there are a wide variety of stand out songs. They are a fantastic example of what can be done from a DIY perspective. I love the video for this song too!
"Hard" by Zs off of Hard (31G).
I remember back in the day these four guys would play facing each other in a diamond shape, each with sheet music on stands, playing the craziest shit. "No way they are sight reading that—that's ridiculous," was the thought you couldn't escape when watching them. "They memorized this stuff and then pretended, right?" Apparently it was a trick… or was it?!
Years later I went to a Music and The Brian conference at Stanford and this guy Mark Applebaum did a similar trick. He was playing the craziest piano improv and had sheet music, with a person turning the pages on his head bang cues every once in a while. Later he explained how we were more impressed when we thought he was sight reading instead of just improving. Hum…
"The Hand that Rocks the Cradle" by Hella from their album There's no 666 in Outer Space.
This is one of my favorite Hella songs!
"L.S.D. Mom" by Doomsday Student from their album A Self-Help Tragedy.
I miss the days of touring with Arab on Radar—they opened portals to dark, fucked up dimensions. Doomsday Student consists of 3/4 AOR members and this album is a great remedy when missing AOR. More fucked up dimensions are still out there!
"Becttem Pollt" by Koenjihakkei from their album Nivraym.
The drummer, Yoshida is the master of Japanese post-prog-math. He is also in Ruins and runs a record label called Magaibutsu. Koenjihakkei is my favorite band he is in and the album Nivraym blew my mind when I first heard it—still does. I still secretly prefer the original recording/mix (2001) of this song, Becttem Pollt. It's probably because I listened to it a bajillion times, but this newer version still rips the fabric of time-space.
Their newest album called DHORIMVISKHA came out last year and was their first new album in 13 years—worth the wait! The crazier mathy parts of the songs PHLESSTTIGHAS and DJEBLAKI ZOMN are some of my favorites of all time!
DHORIMVISKHA by Koenji Hyakkei
Nivraym by Koenjihyakkei
"La Cumbia Del Panadero" by Sonido de la Frontera from their album Cumbia Mundial.
I have never been into Cumbias but then I heard Sonido de la Frontera, and the lyrics (in Spanish) really got me. Luke of Planet B does a great job making the sounds, and I heard 31G will be releasing a Sonido de la Frontera album—can't wait for that! Their album Cumbia Mundial is not on Spotify but it is on Bandcamp. Check out this song, Gringolandia, about crossing the border!
Gringolandia from Cumbia Mundial Edición Deluxe by Sonido de la Frontera
"Blah" by The Molecules from their album Friends.
An old school skronky band with Ron Anderson on guitar. Innerds had a great show with them and Upsilon Acrux in San Diego a few years back.
"04/09/05 – Saturday" by Fantomas from their album Suspended Animation.
This is my favorite Fantomas album. Every song is titled a date in the month of April, 2005. We (The Locust) were on tour with them that month—a glorious month it was!
"El Camino Car Crash" by Swing Kids from Discography (31G).
When I first heard Swing Kids I was wanting more political hardcore like Justin's other band Struggle—this was the early 90's mind you. "What? He cut his green dreads and he's all clean looking now!" Of course I ended up really liking Swing Kids.
"Truthers" by Horse Lords from their album Interventions.
The first INUS show was in Tijuana with Horse Lords from Baltimore. Listen to the smooth polyrhythms these gentlemen present.
"What's The Ugliest Part Of Your Body? – Reprise" by The Mothers of Invention from their album We're Only In It For The Money.
Frank Zappa went to Mission Bay High School, where Justin Pearson and I went decades later. The music teacher there, Mr. Vinole, told my Music Appreciation class how he used to play with Zappa when they were young and how unstoked he was regarding Frank shitting on stage!
INUS ended up playing with Andriod Trio, which is made of the cats that carry on the official Mothers of Invention (Grandmothers of Invention) and the Magic Band (as in Captain Beefheart). Chad Deal (INUS bassist) was actually in a band called Vogut with ANdriod Trio's drummer back in their college days in Humboldt.
I have to say, it is a bit of a disappointment that The Captain Beefheart album Trout Mask Replica is not on Spotify at the time of writing this. I'm sure you could find a fresh upload of it on Youtube before it gets taken down (again). Of course if you actual own the dang album it isn't that much of an issue.
"Sonata No. 5" by John Cage from Sonatas and Interludes for Prepared Piano.
This is my favorite prepared piano composition by John Cage. Another crazy piece by Cage is called William's Mix which involved cutting/spicing tons of (audio) tape. Tom Erbe, who mastered Western Spaghettification, got permission from the Cage trust to access the detailed score and recreate a version utilizing the visual programming language Pure Data. Along with several other musicians/sound-artists, I contributed some of the samples used.

"Bicycle Race" by Upsilon Acrux off of Dynamite with a Laserbeam (31G).
This is off of the Queen compilation. Upsilon Acrux went through entire line up changes with Paul Lai as the nucleus each time. Each member of every line up was always at the top of their mathy-prog game. So this was an early line up. I would highly recommend listening to the full albums Radian Futura and Sun Square Dialect!
"El Motherfucker" by Los Amos De Nuevo Leon from their album El Hyphy.
I absolutely adore the hammed up spanglish on this track! As a white hispanic I felt hesitant about doing Cholodamus vocals (cholo + Nostradamus) on the INUS song Kajillions and Bazillions. But I recently heard this song and now I can chill with Cholodamus.
"Amok!: 1" by Evan Ziporyn from the album Gamelan Galak Tika.
Ziporyn is part of the academic avant-garde world along with folks like Steve Reich. I love this track for long drives!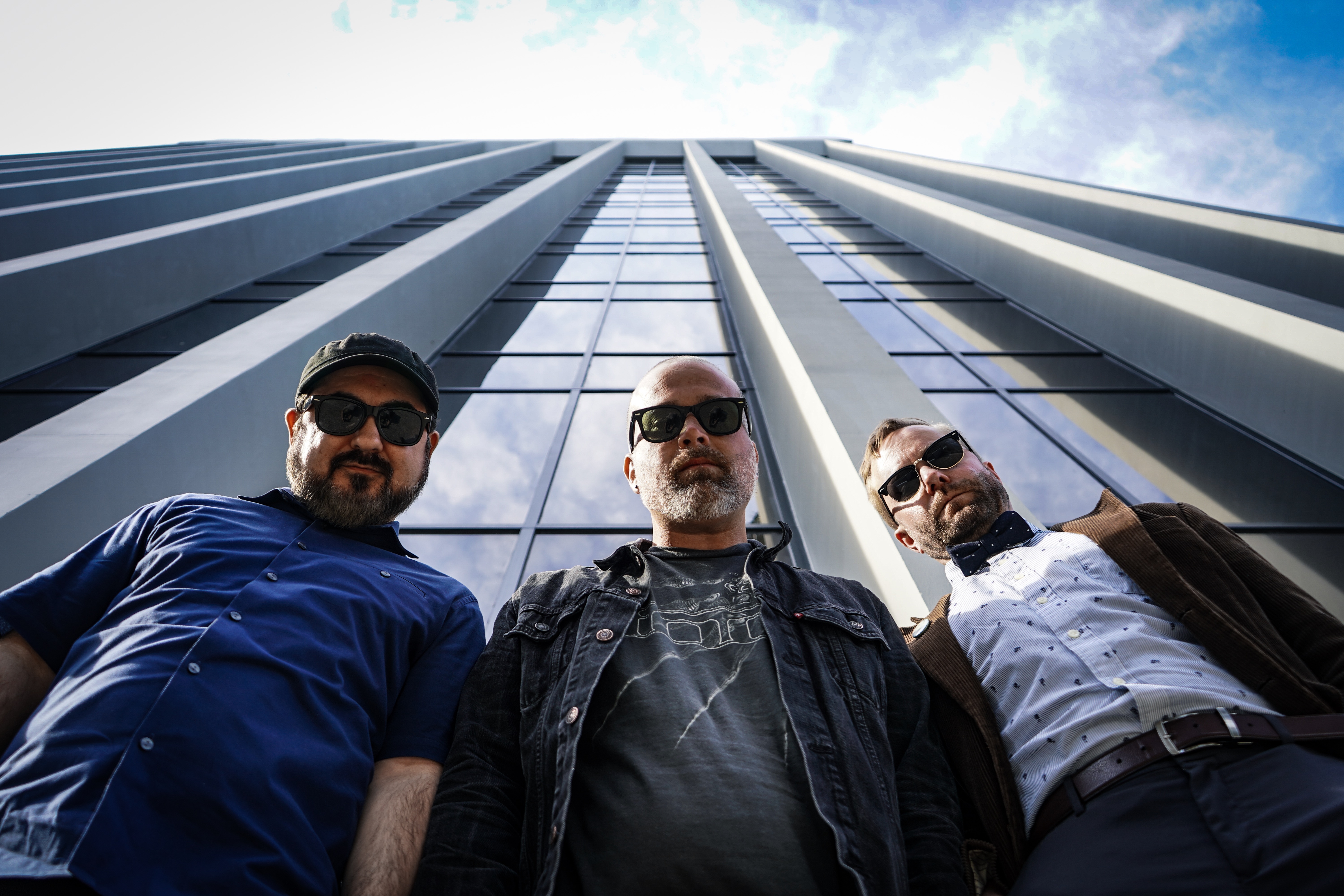 INUS photo by Becky DiGiglio.