01.23
Locust House Variations, A Fiction Column by Adam Gnade, "Excerpt from The Internet Newspaper"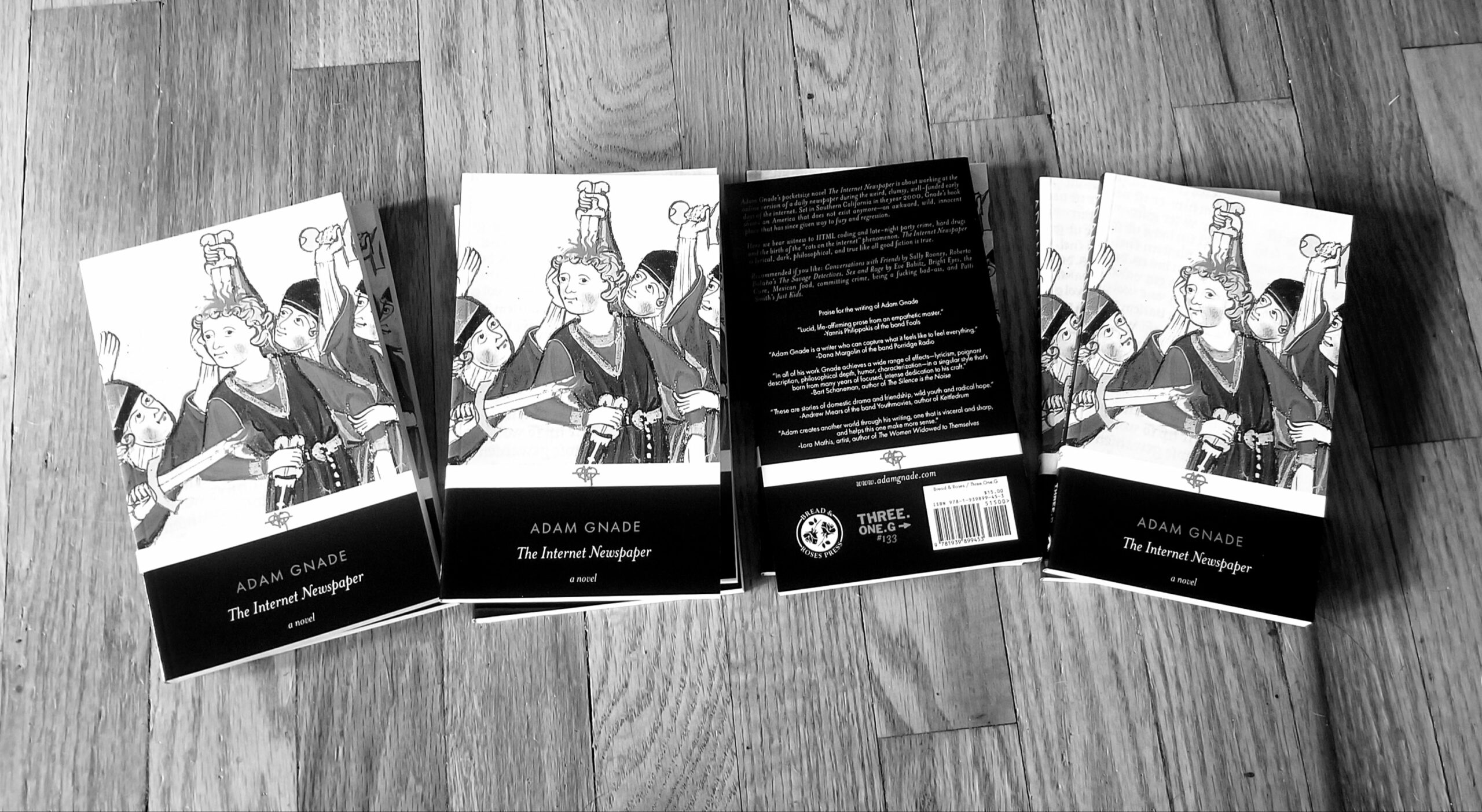 Inside the club it's very dark and crowded. The window to the courtyard is foggy from all the bodies in the room and the Locust is on stage, halfway through a minute-long song I love, then half a minute later the song is over. The band is all dyed black hair and denim, dirtbag glamour, sketchy like someone who would steal your car and smash it into a wall just because they think it's funny. The crowd is talking, shouting, the room loud, warm—no, hot, it's hot. There's tension in the place, but it's a good kind of tension like when a fight breaks out and your friends are in it and you have to act. Now. Without thinking. And you act and it feels good. You are swept up in the violence and you know violence is bad because of course you know violence is bad, but sometimes violence feels healthy.
There are people in costume in the audience. A boy in nothing but cheetah print bikini briefs and a clear plastic mask with bright red lips. A topless girl wearing a sky blue luchador mask and silver tights. There's a lot of hair, thick black dyed hair, Vulcan bangs, sleazy rattails, Joan Jett mullets, eyeliner, tight jeans, colorful new tattoos, kid-size blazer jackets worn in new wave cokehead fashion with a thin necktie, scarves even though it's hot, ridiculous gold mesh or decorative chain-link fashion belts last worn by rich old women in the 1970s, and endless black t-shirts with the sleeves cut off. I look around and see someone I know then they're gone in the crowd and someone else bumps into me from the back just as the next song starts with a frantic blast of drums. The rest of the band comes in like robotic insects attacking you, the music brutal yet contained, heavy and vicious though precise, the song structure like puzzle pieces, interlocked but different, changing in wild, melodic, shredding lines to something else before you get used to what was there first, a ripping surge forward, a sudden stop, a sideways push that could knock over a wall. It's a beautiful thunder, a thunder like new worlds forming. Whenever I see the Locust play I think of a line I love from the Minutemen: "This is Bob Dylan to me." Bob Dylan is also Bob Dylan to me, but the Locust maybe out Bob Dylans him. The Locust is my American folk standard and my campfire protest song, my voice-of-the-people and my this-is-how-it-is.
I watch the rest of their set, then buy a Locust pin, a palm-size makeup mirror with their logo on it, and a puddle-shaped 7" record from the merch table, and cut out before the headliners set up.
Walking back through the woods I see Cass finally got a fire going. It's a brief flash of red in the darkness and it lifts and drops with the breeze, lighting the trunks of the eucalyptus trees all around her with a warm apricot glow.
When I get close I notice she's sitting next to Joey Carr who sees me and waves both arms over his head like he's signaling a plane to land.
Purchase Locust House here.