04.20
OUT FRIDAY MAY 1st – Really Bad Music For Really Bad People: The Cramps as Heard Through the Meat Grinder of Three One G
Really Bad Music For Really Bad People: The Cramps as Heard Through the Meat Grinder of Three One G
Eighteen years ago, Three One G Records flew in the face of Queen purists with the release of Dynamite With A Laserbeam: Queen As Heard Through the Meatgrinder of Three One G, the label's 20th release. On it, bands like Melt-Banana, Weasel Walter, The Locust, Bastard Noise and The Blood Brothers unapologetically tackled some of the most beloved and universally recognizable music in popular culture and made it nasty, noisy, and brutal– and they did so with nothing but love and respect. This was followed by an equally bold tribute to Australian avant-garde legends The Birthday Party, entitled Release The Bats. More frenetic energy from the likes of bands like Cattle Decapitation, Das Oath, SSion and Some Girls, more chaotic feedback giving way to unsettling synth lines, and still (knock on wood) not a lawsuit in sight.
It is only fitting, then, that Three One G's one hundredth release be another tribute, this time to an iconic band known for its raunchy and pure punk spirit, all while looking effortlessly cool: The Cramps. For the label's third comp, the lineup of musicians enlisted to take part is even more diverse, including the likes of Chelsea Wolfe, Daughters, Mike Patton, and Metz, among others– all members, in some way or another, of the extended Three One G family. Here you'll hear everything from Cumbia-style Cramps as interpreted by Sonido De La Frontera, to Panicker's electronic dance-centric distorted version of "I'm Cramped". Just as The Cramps mastered the art of covering music through their own warped lens, Three One G carries on the torch of re-imagining songs with swagger and style, making it their own while honoring a band whose influence on the label is obvious.
This compilation will be the landmark 100th release by Three One G Records. It is available digitally as well as on limited edition vinyl. Mastered by Brent Asbury at Measurable Harm. Layout and design by Black Moon Design.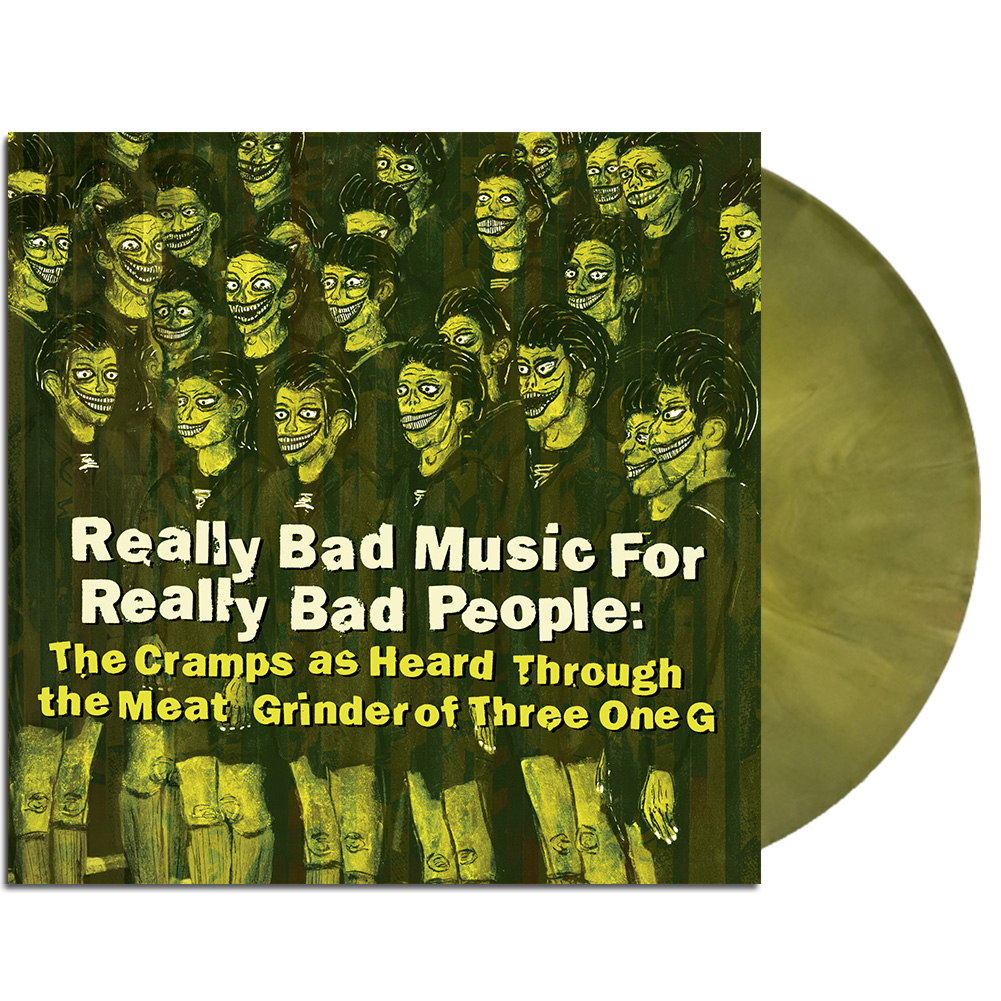 Really Bad Music for Really Bad People:
Child Bite "TV Set"
Metz "Call of the Wighat"
Secret Fun Club feat. Carrie Gillespie Feller "I Was a Teenage Werewolf"
Chelsea Wolfe "Sheena's in a Goth Gang"
Sonido de la Frontera "Zombie Dance"
Qui "New Kind of Kick"
Zeus! feat. Mike Patton "Human Fly"
Retox "Garbageman"
Magic Witch Cookbox "People Ain't No Good"
Microwaves "Don't Eat Stuff Off the Sidewalk"
Daughters "What's Inside a Girl"
Panicker "I'm Cramped"