06.19
Three One G welcomes INUS to our roster!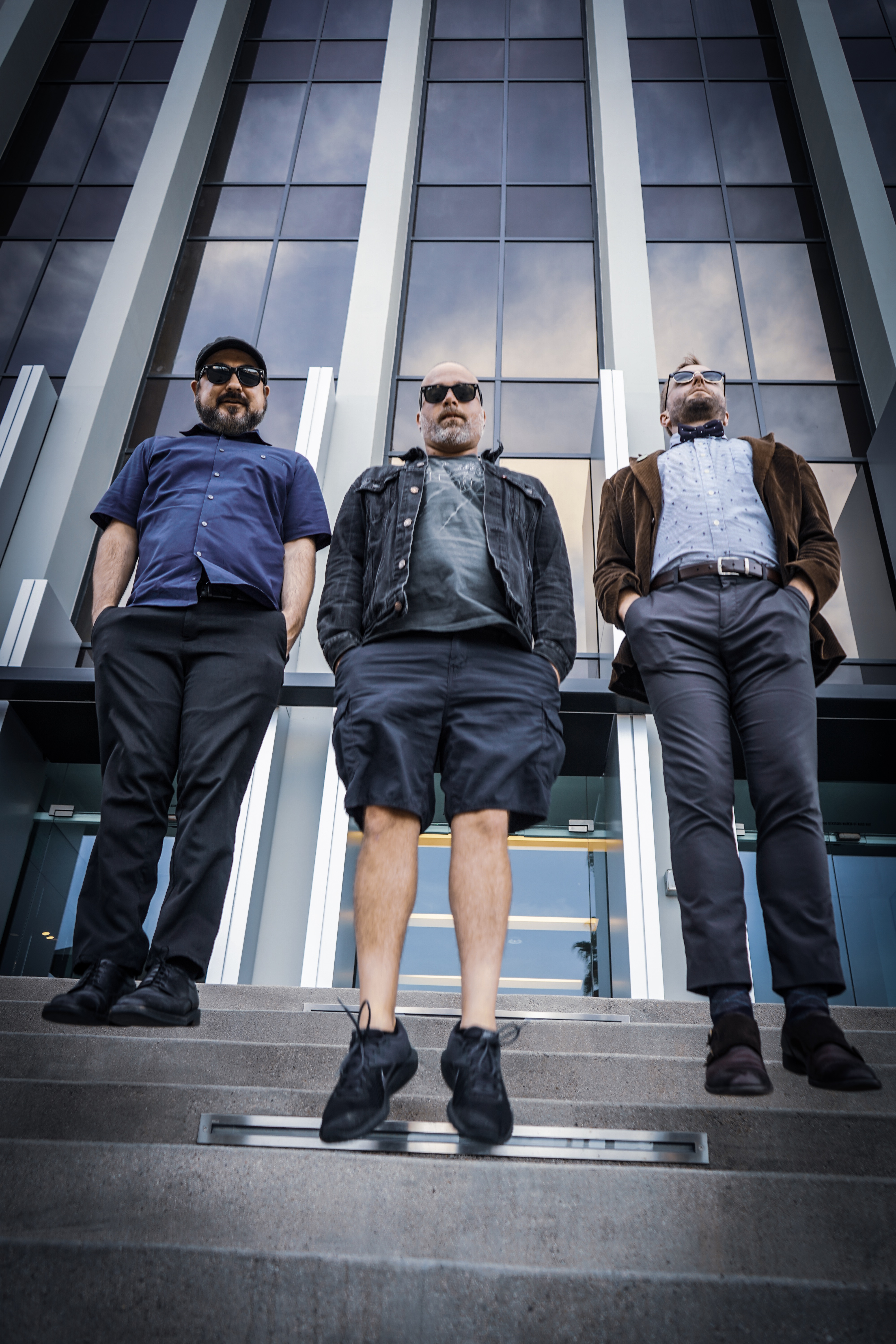 INUS (aka The Institute for Navigating the Universal Self) is a pre-postapocalyptic, post-honky-tonk-prog-skronk, space Tropicalia, math-lounge powersilence trio from San Diego, California. Poking fun at the failed for-profit universities of yesteryear, the band's live performance interweaves blistering, calculated bursts of noise with educational slideshows that riff on subversive political commentary, dada-surrealist sci-fi, scathing social critique, fake news, space cults, infomercials, spoofs on the Department of Defense, and shout-outs to corporate sponsors. The result is an unapologetically bold, utterly ridiculous, and serious-as-all-hell multimedia showcase of sophisticated polyrhythms and hog-wild-future-amusement-park timbres with vocals ranging from ring-modded falsetto to rumbling Tuvan throat skronking. INUS was originally formed as a two-piece under the name Innerds in 2011 by guitarist/vocalist Bobby Bray (The Locust, Holy Molar) and drummer Brandon Relf (Sleeping People). The band has shared the bill with left-field luminaries including 2UP, Head Wound City, The Molecules, Corima, Retox, Upsilon Acrux, Bastard Noise, Horse Lords, and Atomic Ape. Joined by bassist Chad Deal (Phantom Twins) in 2016, Innerds was reborn as INUS and finished the recording of Western Spaghettification.
"Kajillions and Bazillions" is a single off of Western Spaghettification, INUS' upcoming album which was recorded at UCSD's Conrad Prebys Music Center and K-Street Studios and was mastered by Tom Erbe (who has worked on albums for Morton Feldman and Alvin Lucir). It will be released digitally as well as on red vinyl through Three One G Records on August 9th. Preorder, here.
The title of the album itself is a play on words referring to the movie genre spaghetti western, which were westerns filmed in Italy, and the actual physics term "spaghettification," which is what happens if you cross the event horizon of a black hole. The 8-song opus probes the event horizon of Western civilization in a series of pummeling outbursts beginning with "Time is a Person," a proctologist's-eye-view through the fourth dimension wherein archetypal heroes, tyrants, and everyday NPCs gurgle into existence periodically to play out their parts. Other topics addressed include government cover-ups/disinformation, gender biased communication, drug abuse, and the idea that atomic bomb detonations may be detectable in parallel dimensions. While listening to "We Are Our Computers' Genitalia," we are faced with such questions regarding being the first generations in the digital age, and what happens to our concept of self when physically engaged with the Internet for hours at a time (is it empowerment or distraction?).