02.16
Various Artists – Rough Trade Shops COVERS VOL. 1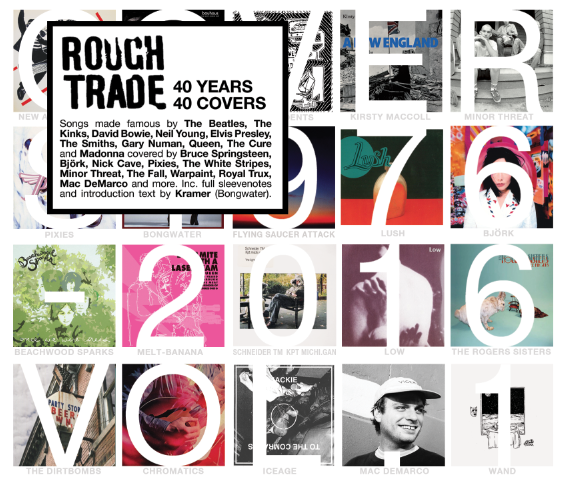 We are proud to be taking part in this cover compilation that Rough Trade is releasing, which features the Melt Banana cover of Queen's "We Will Rock You" from the Dynamite With a Laserbeam LP originally released by Three One G.

Various Artists – Rough Trade Shops COVERS VOL. 1
40 tracks, full sleeve notes plus intro text from Kramer (Bongwater).
On general release 8th April.
40 Songs, 40 Covers.
Rough Trade Shops celebrates its 40th anniversary this year, and one of our special projects is this compilation of some of our favourite cover versions, one from each year since we first opened our door in 1976. Songs by some of the most celebrated musicians in popular culture, covered in their own inimitable style by artists closely associated with the unique story of Rough Trade Shops.
Songs made famous by The Beatles, The Kinks, David Bowie, Neil Young, Elvis Presley, The Smiths, Gary Numan, Queen, The Cure and Madonna covered by Bruce Springsteen, Björk, Nick Cave & The Bad Seeds, Pixies, The White Stripes, Minor Threat, The Fall, Warpaint, Royal Trux, Mac DeMarco and more.
Popular hits like Björk's 'Its Oh So Quiet', originally released by Betty Hutton and Kirsty MacColl's update of Billy Bragg's 'New England' sit comfortably alongside much-loved indie covers such as The Vaselines' take on Divine's 'You Think You're A Man', Dinosaur Jr's fuzzed-out version of The Cure's 'Just Like Heaven', Minor Threat's taut, spare version of The Standells' garage classic Good Guys' and The White Stripes' indelible version of Queen of Country Dolly Parton's 'Jolene'. Check out the sweet, sweet alt-country bluegrass version of Madonna's 'Like a Virgin', lovingly plucked on the banjo by The Meat Purveyors and Bruce Springsteen's hypnotic reinterpretation of electro-punk pioneers Suicide 'Dream Baby Dream'. Three songs from The Kinks' influential catalogue are covered by proto-punks The Count Bishops, d-i-y icons The Raincoats and The legendary Fall. Also included are experimental electronic pop pioneers Schneider TM KPT. MIchi.gan and American indie rock legends Low, who both select iconic works by The Smiths to present in show-stopping style. A further highlight is Warpaint's hazy take on David Bowie's 'Ashes to Ashes' while Chromatics throw some serious shade on Neil Young's 'Into The Black'. The Residents put Elvis Presley's 'Jailhouse Rock' through their unique process to great effect, Melt-Banana take on Queen's 'We Will Rock You' with a drum machine and a reverb pedal, and that's not to mention Nick Cave & The Bad Seeds, Royal Trux, Pixies, The Breeders… the list goes on and on.
Take a look at the tracklist below and lick your lips at the delights on offer, this selection will not disappoint. With an introduction text from Kramer, founder of both the highly influential Shimmy Disc label and the legendary indie band Bongwater, where he describes his passion for the cover version.
Various Artists – Rough Trade Shops COVERS VOL. 1
Disc 1
1. 1976 The Damned play The Beatles – Help
2. 1977 The Count Bishops play The Kinks – I Need You
3. 1978 Pure Hell play Nancy Sinatra – These Boots Are Made For Walking
4. 1979 The Raincoats play The Kinks – Lola
5. 1980 Silicon Teens play Heinz – Just Like Eddie
6. 1981 New Age Steppers play Junior Byles – Fade Away
7. 1982 Bauhaus play Brian Eno – Third Uncle
8. 1983 The Residents play Elvis Presley – Jailhouse Rock
9. 1984 Kirsty MacColl plays Billy Bragg – New England
10. 1985 Minor Threat play The Standells – Good Guys
11. 1986 Nick Cave & The Bad Seeds play The Seekers – The Carnival Is Over
12. 1987 The Vaselines play Divine – You Think You're A Man
13. 1988 The Fall play The Kinks – Victoria
14. 1989 Dinosaur Jr play The Cure – Just Like Heaven
15. 1990 The Breeders play The Beatles – Happiness Is A Warm Gun
16. 1991 Pixies play The Jesus and Mary Chain – Head On
17. 1992 Bongwater play Fred Neil – Everybody's Talking
18. 1993 Flying Saucer Attack play Suede – The Drowners
19. 1994 Lush play The Gist – Love at First Sight
20. 1995 Björk plays Betty Hutton – Its Oh So Quiet
21. 1996 Thee Headcoatees play The Ramones – Swallow My Pride
22. 1997 Armitage Shanks play Tubeway Army – Are Friends Electric?
Disc 2
1. 1998 Royal Trux play Dire Straits – Money For Nothing
2. 1999 The Meat Purveyors play Madonna – Like A Virgin
3. 2000 The White Stripes play Dolly Parton – Jolene
4. 2001 Beachwood Sparks play Sade – By Your Side
5. 2002 Melt Banana play Queen – We Will Rock You
6. 2003 Schneider TM Kpt.Michi.gan play The Smiths – The Light 3000
7. 2004 Low play The Smiths – Last Night I Dreamt That Somebody Loved Me
8. 2005 The Rogers Sisters play Captain Beefheart – Zig Zag Wanderer
9. 2006 Alva Noto + Ryuichi Sakamoto play Ryuichi Sakamoto – Ax Mr. L
10. 2007 Jeffrey Lewis plays Crass – Big A, Little A
11. 2008 Bruce Springsteen plays Suicide – Dream Baby Dream
12. 2009 The xx play Womack & Womack – Teardrops
13. 2010 Warpaint play David Bowie – Ashes to Ashes
14. 2011 The Dirtbombs play Inner City – Good Life
15. 2012 Chromatics play Neil Young & Crazy Horse – Into The Black
16. 2013 Iceage play Sinéad O'Connor – Jackie
17. 2014 Mac DeMarco plays Herb Alpert – This Guy's in Love With You
18. 2015 Wand play Gary Numan – M.E.