09.21
ZEALOT R.I.P. – The Extinction of You LP out now!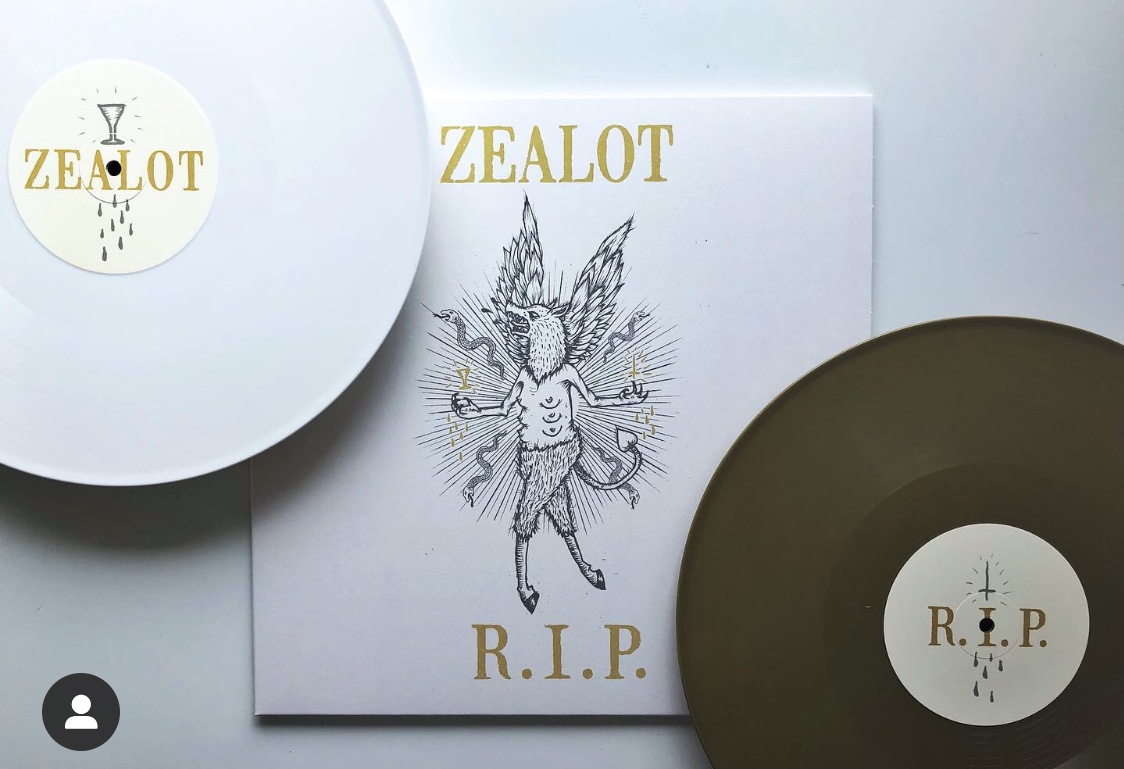 ZEALOT R.I.P – "Covered in Flies" video + The Extinction of You LP
"Titled 'Ambush Predator,' the track is a minute-and-forty-three-second explosion that wraps the primal force of punk in a noisy, rickety and downright gnarly hardcore casing. In the video, the band rip through the song in a confined practice space, bringing to life its claustrophobic energy."
Revolver Magazine
"Zealot R.I.P. have quite the pedigree, with members of Pig Destroyer, Darkest Hour, CombatWoundedVeteran, Frodus and more joining forces to crank out metallic punk jams."
Decibel Magazine
"Zealot R.I.P. is an American metal supergroup featuring members of such genre titans as Pig Destroyer, Darkest Hour, CombatWoundedVeteran and Frodus, among others. Together, they channel a hardcore/metal hybrid by combining propulsive percussion and thunderous riffs."
Impose Magazine
Zealot R.I.P. started years ago when life-long friends, Jason Hamacher (Frodus, Battery, CombatWoundedVeteran) & Mike Schleibaum, decided to collaborate and write music that's fast and heavy. Between Schleibaum's relentless touring in Darkest Hour and Hamacher's extensive documentary work in Syria, it took a few years for them to settle into a sound that's somewhere between Entombed, Dead Kennedys and Born Against. The band was solidified with the additions of Pig Destroyer's Blake Harrison and Fairweather's Peter Tsouras. This metal amalgam, upon forming, went immediately into the studio and recorded a handful of brutally unhinged songs, released as a self-titled EP on Three One G in 2019. As a bizarre and radical opening reception to the world, Zealot R.I.P. played their first show at the Swedish Embassy in Washington D.C., as The Embassy hosted a concert and panel discussion around the history of Swedish metal.
The Extinction of You LP, which is now out on limited vinyl, 250 on gold and 250 on white, via Three One G Records on September 10, 2021.
With the release of the Zealot R.I.P's debut LP, "The Extinction of You" has every bit of the energy one would expect from these beloved, brutal and ripping musicians. And yet, by their own admittance, the band is also a deviation for most of its members. Mike Schleibaum explains that from the band's formation, "I've taken a different approach from any other project or band I've been in. Zealot is sort of a return to my early days in music. We write songs pretty quick and usually end up keeping the first takes. I've always appreciated Jason's creative raw energy on the drums and this project is a direct reflection of that. Combine the unique perspectives of Peter and Blake, and the result is explosive visual energy personified in song form." Blake Harrison adds, "Moving to DC, I wanted to start another project that was a little more 'punk' and 'live' than Pig Destroyer. Lo and behold, I did not start a new project, but fell in with Zealot RIP, whose energy is bombastic."
The Extinction of You LP:
Extinction of You
Worship the Serpent
Magnetic Field of Dreams
Personality Conflict
Ambush Predator
Red Queen Phenomenon
Covered in Flies