02.22
America is Shot Full of Holes, Happy Birthday to Voicemails from the Great Satan by Adam Gnade and Demetrius Antuña, 2/16/18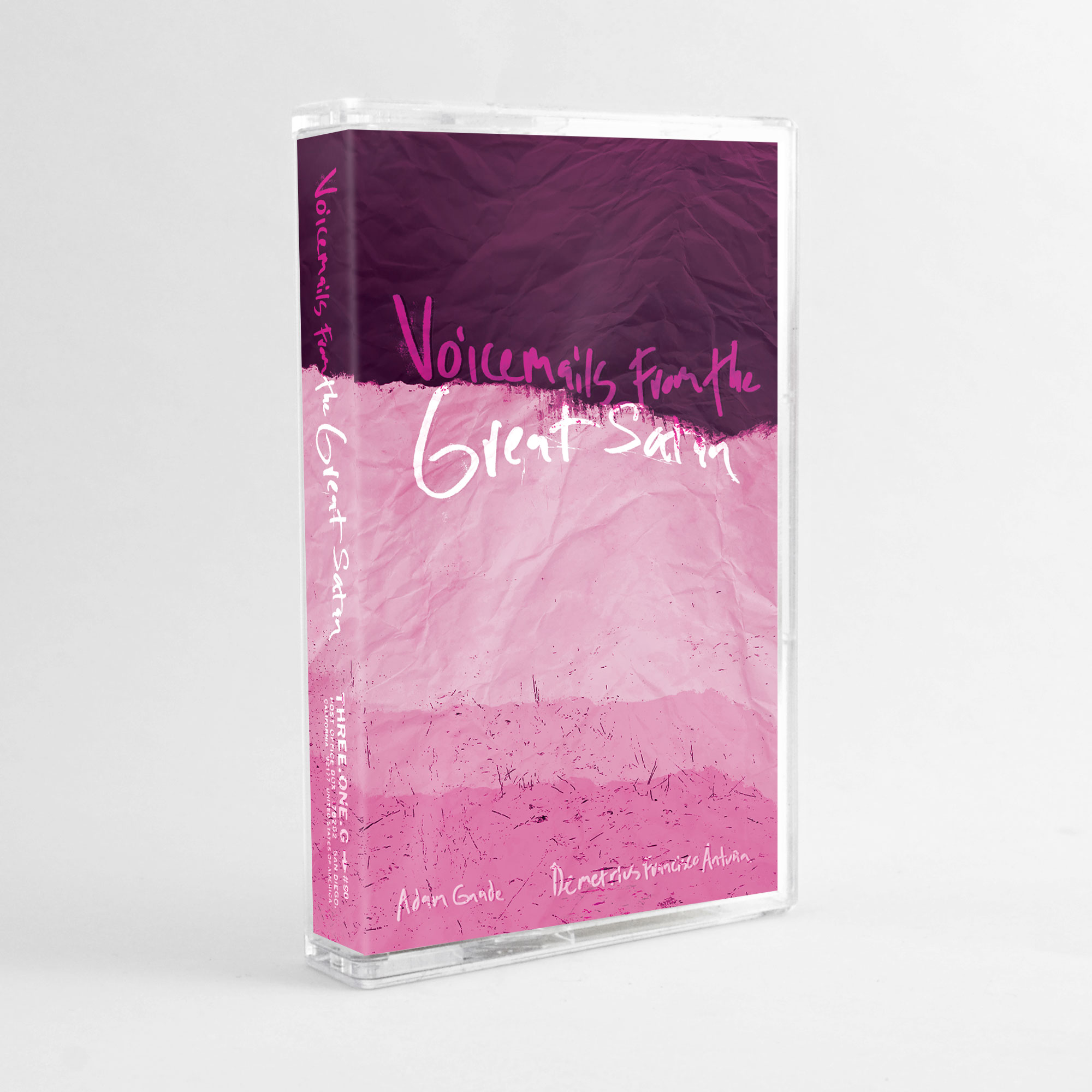 Note: this is an excerpt from the audio book cassette Voicemails from the Great Satan, released four years ago today on 2/16/18
In Albuquerque I slept in my clothes on the floor next to a painting as tall as me propped against the wall in an empty room. It was a black-haired girl's face, tears frozen in place on her cheeks, her eyes hurt and desperate. I woke up with sun streaming through the window. It was noon. I was alive.
At Venice Beach a week later, Janey Marie and I walked out into the surf after sitting in the hot car all day and the waves crashed into us and we fell down or walked through them; we jumped as they hit us. We laughed and we shouted to each other over the roar of the sea and wind. Diving under a wave as it broke and rolled over me, I dug my arms through the charging water and kicked my feet and rose to the surface.
Sun, sky, air.
I took a breath and my heart beat hard in my chest and I stood waist deep—the water churning, my feet sinking into the sand, the currents pulling and pushing me—and the wind blew at my back and the sun burned my shoulders and there was salt in my eyes and I was alive.
I looked back to see the crowded beach and the boardwalk as a wall of tumbling whitewash hit me like a bus.
I was alive on Trash Island.
I was alive walking with you in the Mission—reunited, tired, rum-drunk, in love, holding hands.
I was alive in Seattle walking down the hill past traffic looking for Chinese food we could afford.
In Portland: a house party and Linny and Byron showed up and we drank vodka in the van and talked about home and friends not present.
I was alive in the salmon locks staring at the fish behind green glass, and I was alive floating on my back in Lake Washington with the clouds panning across the sky so far above.
I was alive in the Crystal Cove as we browsed glass cases of fossils and petrified wood and ancient clam shells.
I was alive in the airport staring at the sunny wall of windows and the planes on the tarmac and I didn't know this, but things were ending. Not the world … no matter what you've been told … just things. In the terminal boarding the flight to KC, the sky above Seattle was pale blue and summer was ending. Summer was ending.
Summer was ending…
Cars crash into crowds of people.
People smash into bullets and debt and fists and love.
The earth zips around the sun as if chased by a dragon.
Days march forward like drunken soldiers.
Nights are long and haunted.
America is shot full of holes.
America is hunted by ghosts in the cornfield.
They tore you up like wild dogs and I was alive and I'm sorry.
This is a story of my generation.
I was alive.