06.17
BORN UPSIDE DOWN – A photo zine by Becky DiGiglio and Justin Pearson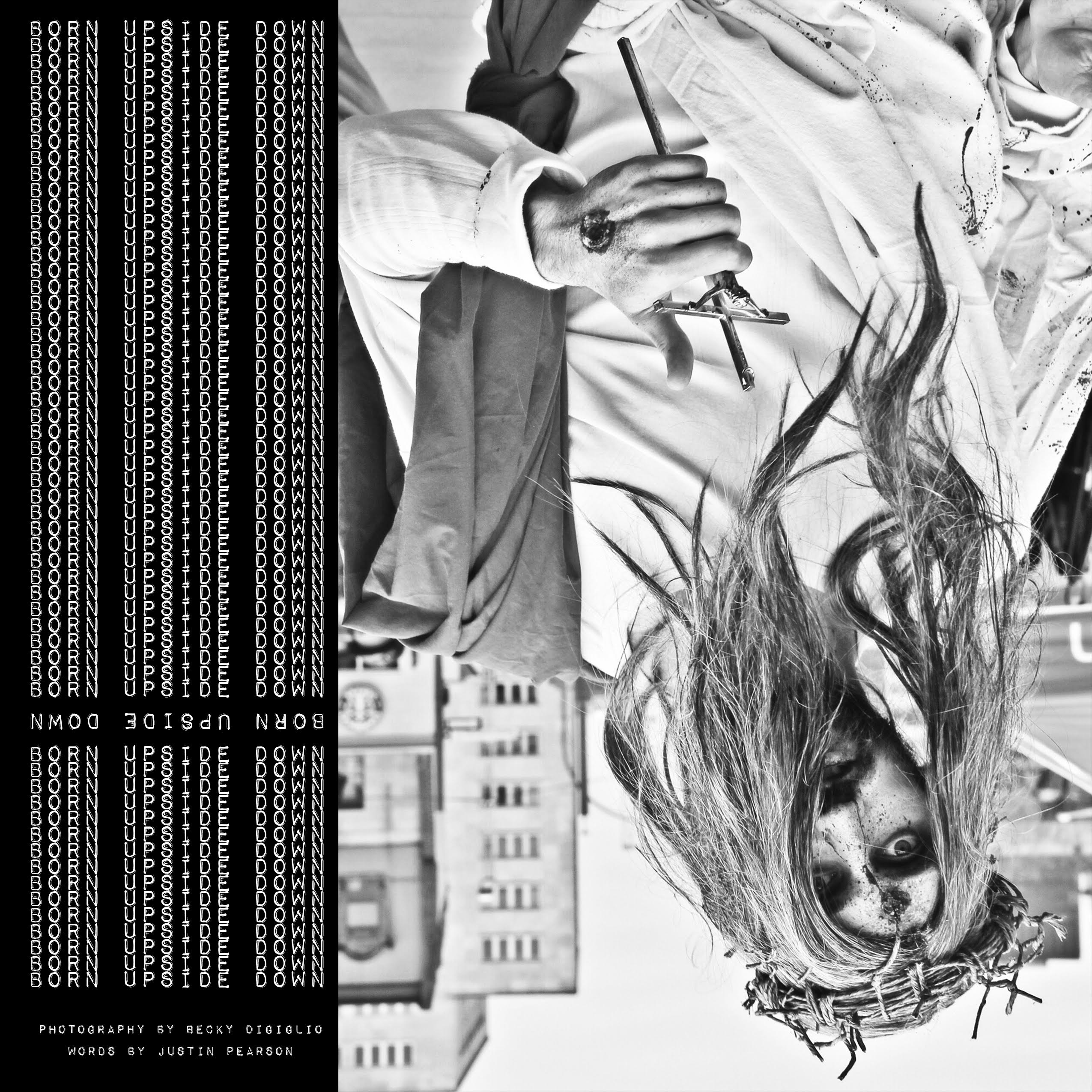 Sometimes the best art holds a mirror to our ugliness—and in that ugliness we see beauty. Becky DiGiglio and Justin Pearson's collaborative art book, Born Upside Down, pairs photography (DiGiglio's) and caption writing (Pearson's) to reveal the grime and rot of life in America. Flying saucers and corpse saviors are set alongside ghosted structures and crumbling wasteland. These blasted-out desert towns, decaying religious monuments, and haunted statues feel like life in Trump's America—precarious, faulty, gothic, and doomed.
DiGiglio's work here has a solitary, bare, quiet tone—life after detonation, abandoned dreams and hopes, desolation in the sand-flats and nothing but the bones, forgotten signs with peeling and chipped paint, and bent metal. Pearson's captions are par for the course ("From here on out, let's just swim in the sea section of casual bacteria" or "And since we're god, we might as well try to be better at it.") DiGiglio's music photography, often featuring Pearson's bands Retox, Head Wound City, and Dead Cross, shows the power of violent catharsis in wildly communal settings but here the people do not come together; they do not gather and they do not rise or heal.
Says DiGiglio, "The few pages that seem to show interaction (the Dillinger Escape Plan photo of all the grabbing hands or the fly/spider) have a more predatory vibe than anything. Anything else that includes bodies are in the form of statues, and are pieces of a whole (a face missing a nose, or a skeleton, or a body without its head)."
Regardless of the severe content it's hard not to see beauty in these pages. The windswept skies with tufts of white cloud, the stark contrast, the deep oceans of black, and the startling vibrancy of red blood splashed across a dirty toilet. In the face of ruin and devastation, it's a beauty most won't see but, for those with the right kind of heart and background, this work will call your name in rising swells. Ugliness and beauty are of course not mutually exclusive. As says Pearson in one of DiGiglio's photo captions, "Life can be both cruel and beautiful."
-Locust House author Adam Gnade
Pick up a copy in our web store HERE.