04.21
For Freddie, Happy Birthday to Dynamite with a Laserbeam: Queen as Heard Through the Meatgrinder of Three One G, 4/30/02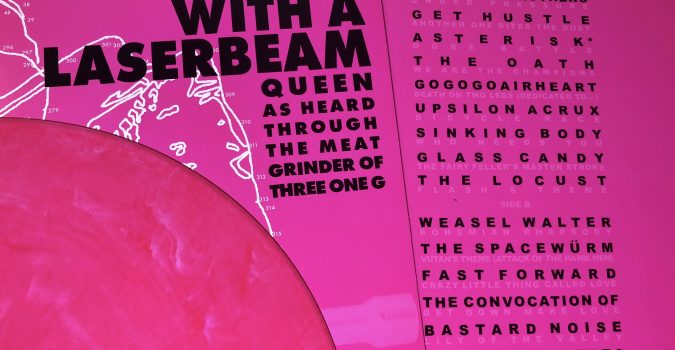 The first of Three One G's tribute comp series, this set of Queen covers is both a love letter and a complete and total dismantling. We're given impressionistic splatter and futurized revamps, rock gone modern punk, pop gone harsh noise. If this were a flag I would salute it. If this were a flag I would burn all the others.
The Blood Brothers' take on the Bowie/Queen anthem "Under Pressure" kicks off the record and sounds just like the original and nothing like it at the same time. It feels like the natural evolution of the song, while going places Bowie and Queen never went. Highlights on this record abound. The Oath's "We Are the Champions" is like Sid doing "My Way" as a punk song. It's fucked-up and heavy and a total thrillride that will make you want to kick a house down just because. (Of note: Kicking down houses could be a metaphor for this entire record–on a variety of levels.)
Get Hustle's take on "Another One Bites the Dust" is one of the tracks most faithful to the original while still retaining Get Hustle's dark cabaret vibe. Bastard Noise wins the gold trophy and a shower of neon confetti for taking their track farthest from the source material with their noise attack on "Lily of the Valley."
The Locust turns the theme from Flash Gordon into a sci-fi insect assault of keyboards and blastbeats that somehow sounds like a party you'd want to attend. Another favorite is Tourettes Lautrec's version of "Killer Queen", remade as a glorious piece of San Diego noise rock that makes me miss home in a very fundamental way. (That we lost Tourettes' Traci Haze in February of last year weighs heavy while listening to this. RIP.)
Japan's Melt-Banana closes out this 16-track album (which also features Fast Forward, Weasel Walter, the Spacewurm, Asterisk*, GoGoGo Airheart, Upsilon Acrux, Sinking Body, Glass Candy, and the Convocation Of). Melt-Banana's version of the song is simple, clean, and perfect, switching out arena rock thunder for intimate electronics and glitching vocals. The result is beautiful, and by the time the electro-fried solo comes on, if you aren't in love with this album, I don't want to be your friend anymore. Give me back everything I ever loaned you. We are done. If you like it, I will tie a friendship bracelet on your wrist right this minute.
Gauntlet thrown down, there is not a dud or a miss on this record. Whether the artist is playing close to the original or deconstructing like a motherfucker, these tracks kill, rip, and sizzle like pancake batter on a grill when you're really fucking hungry. This comp was released 19 years ago today, but it doesn't sound a day over babyhood. Happy birthday, sweetie.
–Adam Gnade, author of the books Locust House, This is the End of Something But It's Not the End of You, and Float Me Away, Floodwaters