04.17
FREE Invisibl Skratch Piklz / Planet B picture disc 7″ single!
Invisibl Skratch Piklz and Planet B have teamed up to release this free split 7". The legendary turntablists, Invisibl Skratch Piklz, is a DJ crew currently made up of the incredibly influential artists D-Styles, Shortkut, and DJ Qbert. The trio recently released their LP, The 13th Floor, which features one of the tracks off of the split. Planet B is Justin Pearson (The Locust, Head Wound City, Dead Cross, Retox), Gabe Serbian (The Locust, Head Wound City, Dead Cross, Zu), and Luke Henshaw (Sonido de la Frontera, First Power Crew). The project is currently working on their debut LP, which will include collaborations with artists such as Martin Atkins (Ministry, PIL, etc.), Sonny Kay (Angel Hair, owner of GSL Records), and Joseph Karam (The Locust).
This Invisbl Skratch Piklz/ Planet B split 7" picture disc will be available for free in conjunction with Pabst Blue Ribbon Music at Three One G and Thud Rumble's web stores (while supplies last) on April 18th.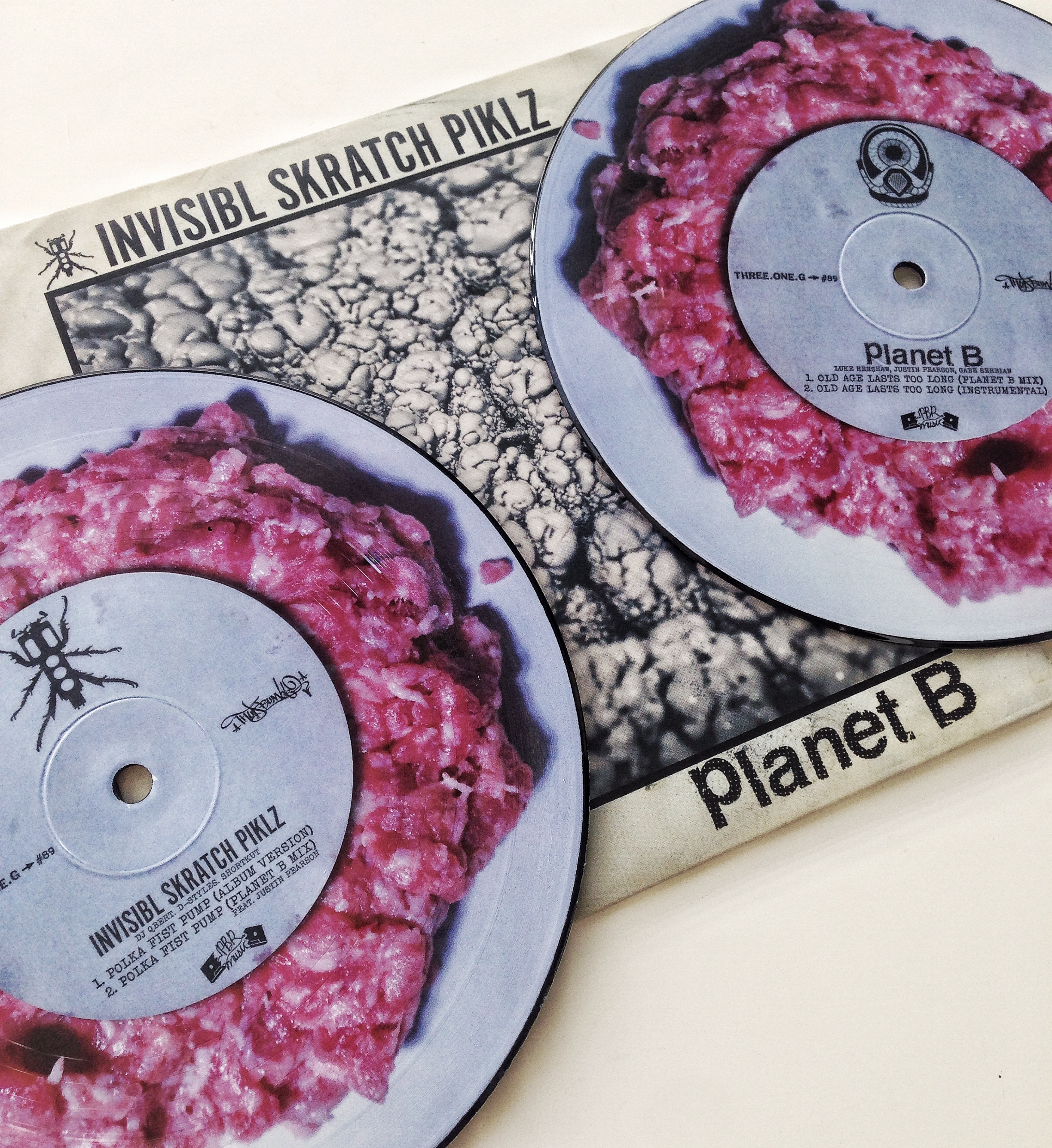 Sample-spewing masterminds Invisibl Skratch Piklz and Planet B work together to forge a gritty, wayward path in these troubling times with this newest 7". Each entrenched in the ethics of DIY (and with extensive musical histories to show for it), these artists' music meld hip hop and punk through scratches, synths, and screams. Side A includes two versions of Invisibl Skratch Piklz' "Polka Fist Pump", a brutal turntable assault that shows the speed and precision with which ISP can scratch. The second mix on the 7" features Justin Pearson's scathing vocals and smart-aleck aping of the track's samples, leaving the listener with "beautiful debris at the birth of terror." Side B re-imagines a piece originally written by two-thirds of Planet B, Gabe Serbian and Justin Pearson: both locusts who have "learned how to fly with one wing." The track, "Old Age Lasts Too Long," was first created for the soundtrack of Asia Argento's film, Incompresa. Be it through turntablism, Dadaism, situationism or sarcasm, both tracks resonate as prescriptions for dissent, even, at times, in the absence of words.
Track Listing:
Side A (Invisibl Skratch Piklz):
1. Polka Fist Pump (Album version)
2. Polka Fist Pump (Planet B mix feat. Justin Pearson)
Side B (Planet B)
1. Old Age Lasts Too Long (Planet B mix)
2. Old Age Lasts Too Long (Instrumental)