06.21
June 13th Tryptic, Happy Birthday to the Release the Bats compilation, the Holy Molar DVD, and Black Cat #13's "I Blast Off" 7″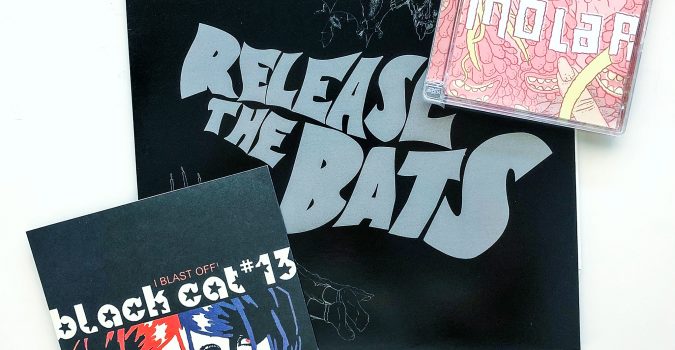 June 13th is a big day for the Three One G family. Twenty-one years ago today the Black Cat #13 7″ was released. Fifteen years ago both the Holy Molar DVD Dentist the Menace and The Birthday Party tribute record Release the Bats came out. A good day for music, a good day for art that doesn't give a fuck what you think.
I remember watching the Molar DVD years before I'd begun to tour myself, wondering whether playing shows around the country would be this ridiculous. (Turns out not as much as this, and it doesn't get much weirder than the teenage birthday party the band plays in the film.) This DVD from Strictly Amateur Films documents Molar's West Coast tour and showcases a band that stopped being one far too early. There's nothing like a Holy Molar song–catchy, fun, weird, absurd, futuristic, trashy–and to see them on stage was a treat most listeners never got to taste.
Same day Dentist the Menace came out, Three One G released its legendary tribute to Nick Cave's The Birthday Party, Release the Bats. The roster on this comp is just nuts, from Daughters to Some Girls, Cattle Decapitation to Melt-Banana. Les Georges Leningrad tackle "Riddle House." Ex Models attack "Mutiny In Heaven." It's bonkers. All-star doesn't even begin to explain it. This is a whole galaxy.
Going back in time now 21 years, June 13th saw the release of Black Cat #13's "I Blast Off" 7″. Made up of Jesse F. Keeler (drums), Robin Young (keyboards), Mark McLean (bass), and Lindsey Gillard (vocals), and featuring future members of Death From Above 1979, MSTRKRFT, Femme Fatale, and Sick Lipstick, Black Cat's four tracks (three originals, one a cover of Struggle's "War #1") are blistering, frantic punk rock 'n' roll annihilators with siren keyboards and shriek-bark lyrics that recall No Wave's finest. It's a goddamn classic. A brief document of how good, exciting, and creative punk can be. Also, to top it all off, this was the label's 13th release. So much 13. Get lucky. Get unlucky. Just get.
–Adam Gnade, author of Locust House, Hymn California, and Float Me Away, Floodwaters