01.22
Locust House Variations, A Weekly Fiction Column by Adam Gnade, "In the Winter/Reading List"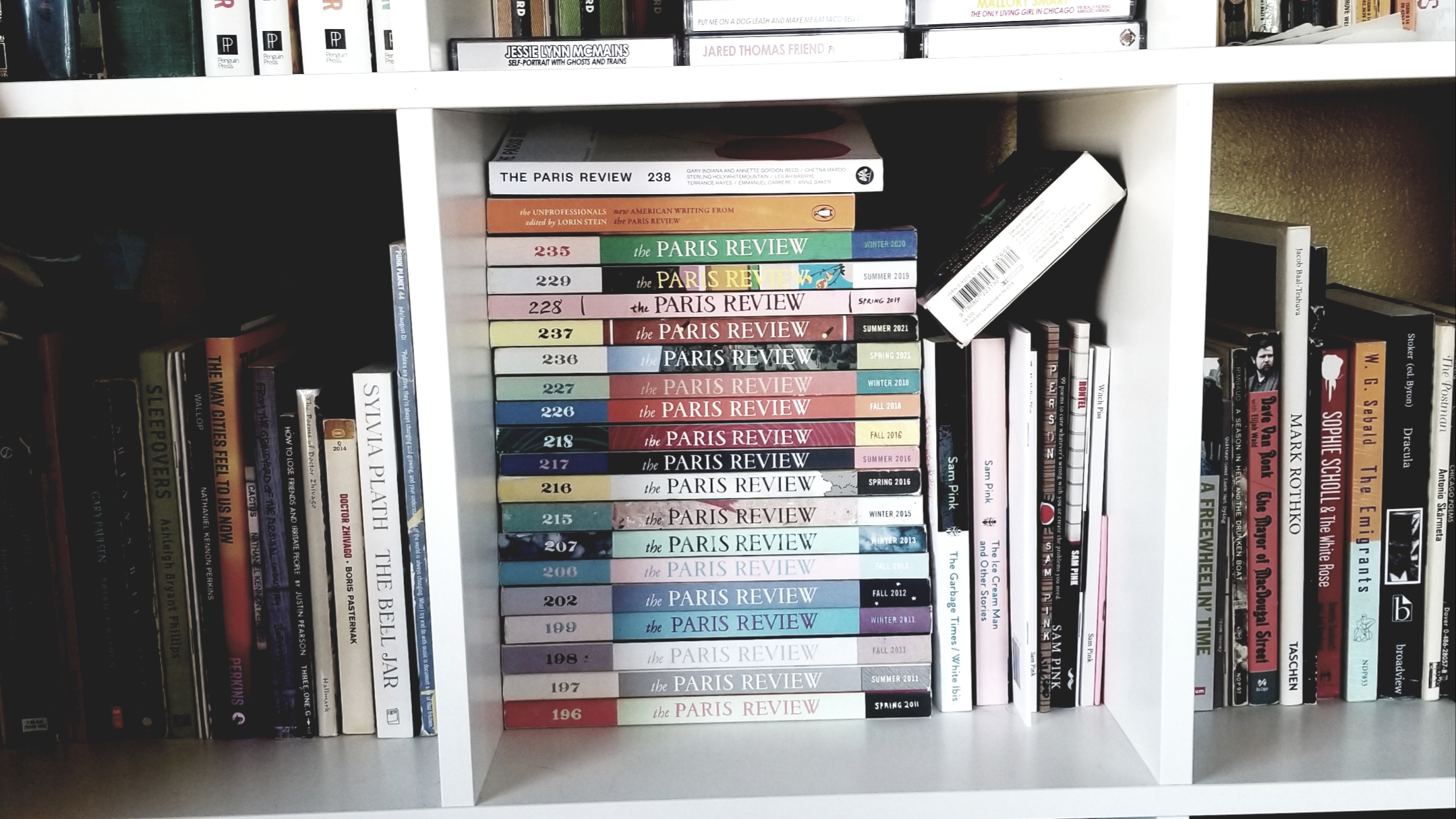 In the winter I read Adolfo Bioy Casares' stories, Eve Babitz on LA, and medieval poetry concerning the death of Arthur. I sat at my glass-top table with the bookcase in front of me and stared at the wall of books in their white IKEA shelf and told myself, "I will do that too."
I read James Baldwin and The Epic of Gilgamesh. I read The Paris Review, Jean Genet, and Samuel Beckett. When the first snows came, I sat on the couch by the windows with a blanket over me and a manuscript I'd begun in October in San Diego. I worked on that manuscript while the snow fell in slow, drifting flakes until the fields went from flat gold to white. I read Louise Erdrich, Stefan Zweig's The World of Yesterday, and Karl Ove Knausgaard's final My Struggle.
At night, when the farmhouse was quiet, I sat at my table with Polaroid photos and jars of pens, an hourglass full of gold sand beads, a small poinsettia from years ago with no red leaves, paper and notebooks in piles, a knife (sheathed), a bronze-colored candleholder in the shape of a hand like "Thing" from the Adamms Family, and I worked. I worked in the morning while Alison was off at the university in town and at night with a glass of ruby port, and when I wasn't working I read Natalie Diaz's Postcolonial Love Poem, the family saga of Barbara Renaud Gonzales, Bertolt Brecht's Antigone, and Dickens. (Then more Diaz, more Knausgaard, Byron, Burn All Books newsletters, many emails, and poems by Lora Mathis.)
It's winter still. This morning it was cold enough the ground felt like glass under your boots. It cracked as you stepped, cracked away from you in thin, clear veins—the air sharp in your lungs, which I like. Today I emailed with Sal Brown up in Michigan after sending him royalties and he said, "I love the cold, man, especially after living in Florida for a while. This is the first year in four since I've been back that I can endure the cold again. Florida thins your blood." On Monday I fly to Michigan to take care of my god-sons Willy and Johnsy while Frankie, their mom, works. It's going to be much colder up there. I'm bringing Baldwin's Just Above My Head for the flight. When I get back, I've got Tolkien's take on Arthur's death to round out my study and Tove Ditlevsen who Alison says is too brutal sometimes to read before bed.
In May, in the spring, I'll finish the new book. Or April. I don't remember which I said in my planner, and I don't know if that matters. –Adam Gnade
Purchase Locust House here.