12.20
OUT TODAY: Deaf Club "The Wait" (Killing Joke cover) – Benefit single
Deaf Club is a savage sound bath dripping with sardonicism: a blastbeat-centric hardcore punk assault channeling crust, thrash, and grind (un)sensibilities. Succinct pauses, surreal frequencies and effects, breakneck pace and sharply hurled vocals characterize the band's aesthetic, which seems as though it is rooted in a sort of nasty-sound-meets-highbrow-message ethos. Fueled by the onslaught of society's insanity and driven mad by tinnitus, Justin Pearson (The Locust, Dead Cross, Planet B), Brian Amalfitano (ACxDC), Scott Osment (Weak Flesh), Jason Klein (Run With The Hunted), and Tommy Meehan (The Manx, Chum Out!) approach music as an opportunity to confront our collective sicknesses. Last October, the band released their debut EP, Contemporary Sickness, as well as a Remix cassette EP.
This track, a cover by industrial occultist legends Killing Joke and an interesting departure from what one might expect of Deaf Club's grindy style, is the first release by the band since their EP a year ago. They are currently in the final stages of their debut full-length album, with more details forthcoming shortly.
Accompanying video for "The Wait" by Displaced/Replaced.
This track will be available digitally on Bandcamp for people to pay what they want, and all proceeds from now until Jan. 4th will go to Fair Fight. Purchase the track, here.
"The Wait" is being released via Three One G Records. Recorded by Alex Estrada and Tommy Meehan. Mixed and mastered by Jim Goodwin. The track was originally written and performed by Killing Joke.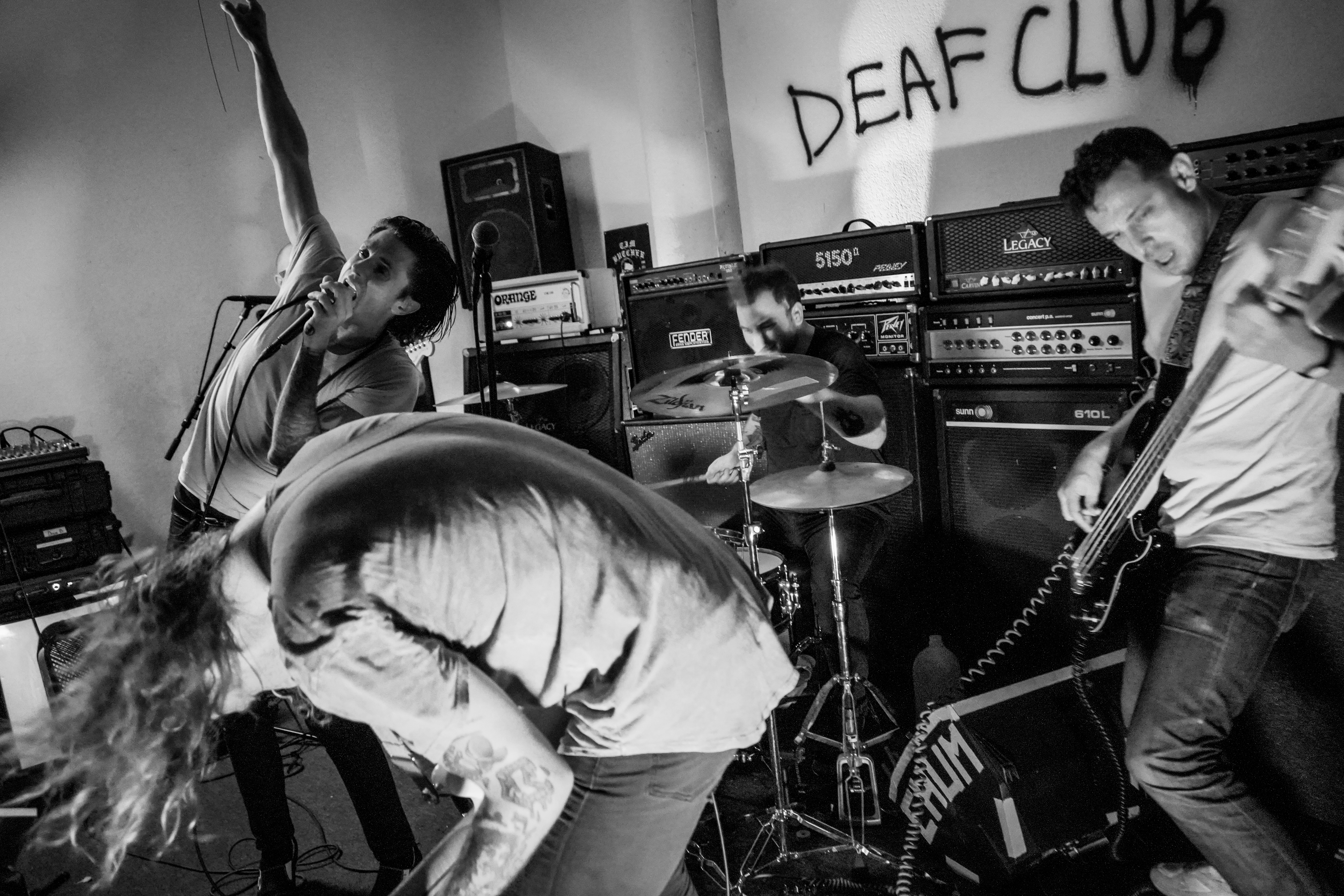 Photo by Becky DiGiglio.