11.15
PLANET B "Wrong Utopia" 7″ single out now!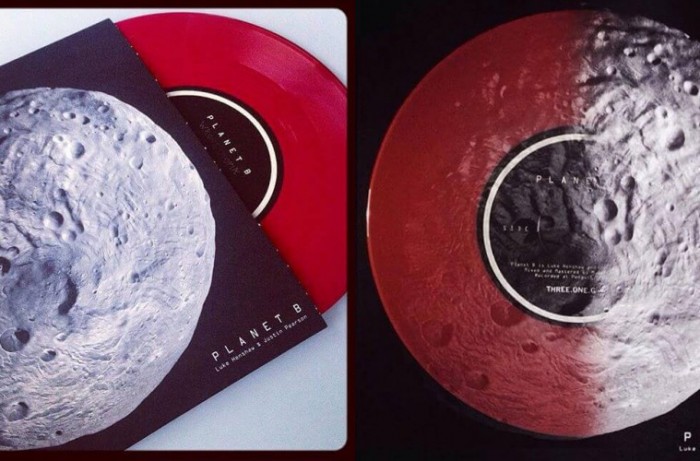 PLANET B: Justin Pearson (The Locust, Retox, Head Wound City) teams with hip hop producer Luke Henshaw for newest project, drops "Wrong Utopia" single via Three One G Records.
Dropped down amongst the knobs and dials of San Diego, rogue avatars Justin Pearson (The Locust, Retox, Head Wound City) and Luke Henshaw (Penguin Studio) have created Planet B, with the shared purpose of creating music both mischievous in sound and sobering in message. The two have worked together in varying capacities over the years, most recently as contributors to the soundtrack of Asia Argento's Incompresa which debuted at the 2014 Cannes Film Festival and featured Pearson as Charlotte Gainsbourg's boyfriend. Planet B, however, marks the beginning of a full-on melding of these two preternatural minds, successfully integrating key aspects of both musicians' stylistic strengths and playing off of one another with purpose.
With Planet B, Pearson's vocals and lyrics present the viewpoint of an outsider looking in at his surroundings, perhaps specifically regarding the ethics of punk and the music scene he has been entangled in for years. This is interspersed with Henshaw's fantastical sci-fi accompaniments, and almost hip-hop elements often presented at times. Basically, the "Wrong Utopia" single has all the makings of your next interdimensional earworm.
PLANET B "Wrong Utopia" 7″ single out today. The limited edition color vinyl single is only available through our web store. The digital version is available from iTunes.
For more info on the project and to hear an exclusive interview with Justin and Luke, check out this piece:
Preview the video for "Join a Cult" which was directed by Nathan Joyner of Hot Nerds/ All Leather exclusively over at CVLT NATION.