07.16
Retox and Silent 2016 U.S. tour!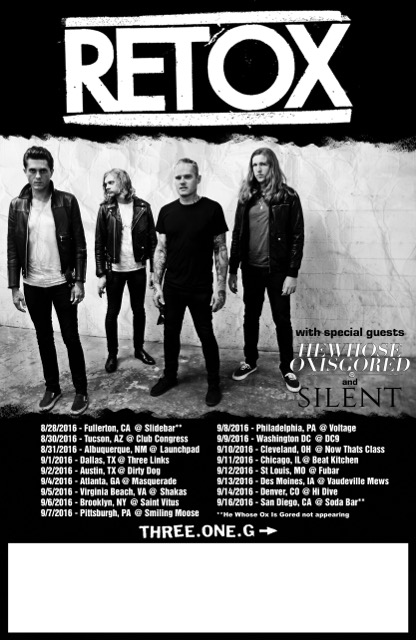 Crawling out from beneath Southern California once again is Retox with a tour beginning August 28th and spanning from California to New York. Their return is much anticipated after laying low for some time, as members Justin Pearson and Michael Crain have been busy working with Dave Lombardo in their new band Dead Cross, in addition to Justin's touring and May record release with Head Wound City. With Retox, a grimy, abrasive punk ethos is the heart of the band's sound– a distinctive sci-fi surf rock meets scumbag stage presence they've mastered that has surely left a void in its absence.
Retox will be traveling with support from He Whose Ox is Gored and Silent, Three One G's latest signed band featuring members of All Leather and Maniqui Lazer.
August 28 – Fullerton, CA @ Slidebar**
August 30 – Tucscon, AZ @ Club Congress
August 31 – Albuqueque, NM @ Launchpad
September 1 – Dallas, TX @ Three Links
September 2 – Austin, TX @ Dirty Dog
September 4 – Atlanta, GA @ Masquerade
September 5 – Virginia Beach, VA @ Shakas
September 6 – Brooklyn, NY @ Saint Vitus
September 7 – Pittsburgh, PA @ Smiling Moose
September 8 – Philadelphia, PA @ Voltage
September 9 – Washington, DC @ DC9
September 10 – Cleveland, OH @ Now That's Class
September 11 – Chicago, IL @ Beat Kitchen
September 12 – St. Louis, MO @ Fubar
September 13 – Des Moines, IA @ Vaudeville Mews
September 14 – Denver, CO @ Hi Dive
September 16 – San Diego, CA @ Soda Bar **
**He Whose Ox is Gored will not be appearing on these dates