04.21
This is Your Home, Happy Birthday to This is Circumstantial Evidence, 4/20/04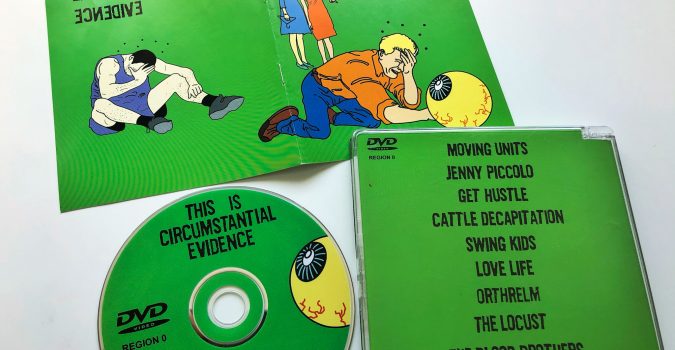 Released 17 years ago today as a collaboration with Strictly Amateur Films, This is Circumstantial Evidence is a powerhouse documentation of the Three One G universe. With artwork and animation by Sam McPheeters of Born Against and Men's Recovery Project, the DVD collected live and studio tracks by Moving Units, Jenny Piccolo, Get Hustle, Cattle Decapitation, Swing Kids, Love Life, Orthrelm, The Locust, and The Blood Brothers in a showcase of all-things Three One G.
DVDs have long since fallen from fashion and use, and this particular one is out of print, but you can find these videos at the Three One G YouTube channel. Documenting art and culture as it happens is one of the ways we keep from devolving into drooling, shiftless, un-self-aware, douchebag amoeba blobs with no sense of history, style, or connection. It's important to remember what's been done and it's important to save it for posterity. Once we give up on that we've lost something true, vital, and important to the human experience.
To witness the Blood Brothers at the height of their twitchy, convulsive powers, to watch Get Hustle freak the fuck out on stage like some peyote dream, to see Orthrelm splinter musical notes into glass shards is a reassuring thing. It's a thing that says, "This is your home. This is a place for you. Fuck all those dickhead assholes who tell you you're too weird or not good enough. There's a spot for you here." Checking back in with this film so many years later, I'm reminded that this is a world that welcomes me in, that understands my particular kind of strange. Us here—me, maybe you reading this, the bands in the film—we are a different animal and to be a different animal can be alienating. To thrive as a different animal you must seek your kind.
I lost my own copy of the DVD years ago and I feel lesser for it. Watching these videos on the label's YouTube channel is good for the soul and I very much suggest doing that in a timely fashion. So much of life and culture is unoriginal and insubstantial. This is neither.

–Adam Gnade, author of the Three One G books Locust House, This is the End of Something But It's Not the End of You, and Float Me Away, Floodwaters