02.21
Lawnmower Love, Happy Birthday to Love in the Fascist Brothel by The Plot to Blow Up the Eiffel Tower, 2/15/2005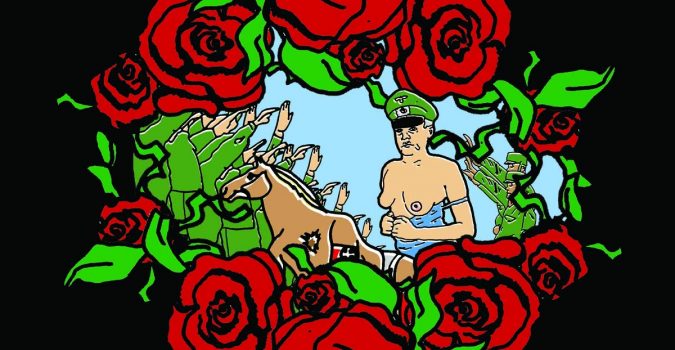 I still remember the heat in the air at a Plot show. The desperate, humid pit and kids crawling up on stage to dance. Seeing the Plot play live was more like a zombification ritual or an unholy tent revival than a show. It was loud and sweaty and ecstatic, and so and so making out with so and so, and kids in animal costumes dancing next to the drum riser, and of course the afterparties were stupid fun and you risked life and limb going (and you fuckin' loved it).
People lost their collective shit over the Plot, and not just in San Diego. The band's life was very short, but it burned bright and infected a large part of the punk scene and various adjacent communities. They were, in a word, huge.
The Plot released a final EP (INRI, with a great cover of Bowie's "Boys Keep Swinging") after Brothel before going their separate ways (Brian Hill went on to play in The Soft Pack and Brandon Welchez and Chuck Rowell formed the killer and prolific Crocodiles, after releasing a record on Mario Orduno's Art Fag label as The Prayers, eventually passing that name on to Rafa Reyes for his cholo goth band Prayers (no "the"). Willy Graves left this world tragically in September of 2008).
Love in the Fascist Brothel, released by Three One G 16 fuckin' years ago today was a dance party and a critique on the punk scene and George W's presidency, controversially employing satirical Nazi imagery as a takedown of both.
Songs like "Lawnmower Love," "Vulture Control," and "Angry, Young and Rich" are synonymous with that time period for me. They're in the fabric, etched into the glass like the grains of a sandstorm.
Brothel is a tangled, skronking, bleating pummel of full-shred/zero-cliche hardcore punk rock 'n' roll that fits somewhere between absolutely nowhere. These ten rhythmic, propulsive tracks are their own thing entirely. I remember reading reviews that compared Brothel to everything from Nation of Ulysses, Q and Not U, At the Drive-In, '60s garage, Le Shok, the Minutemen (what?), the Flying Luttenbachers, and the Blood Brothers, but I don't see any of it. Nothin' samey here, nothin' previously trod, or stale. Brothel hit the world as a fresh bolt of thunder, sex, humor, weirdness, experimentation, decadence, sarcasm, virtuosity, and violence. It was smart and relevant and it still is today.
–Adam Gnade, author of the books Locust House, the DIY Guide to Fighting the Big Motherfuckin' Sad, and Float Me Away, Floodwaters