05.22
Locust House Variations, A Weekly Column by Adam Gnade, "To Gabe"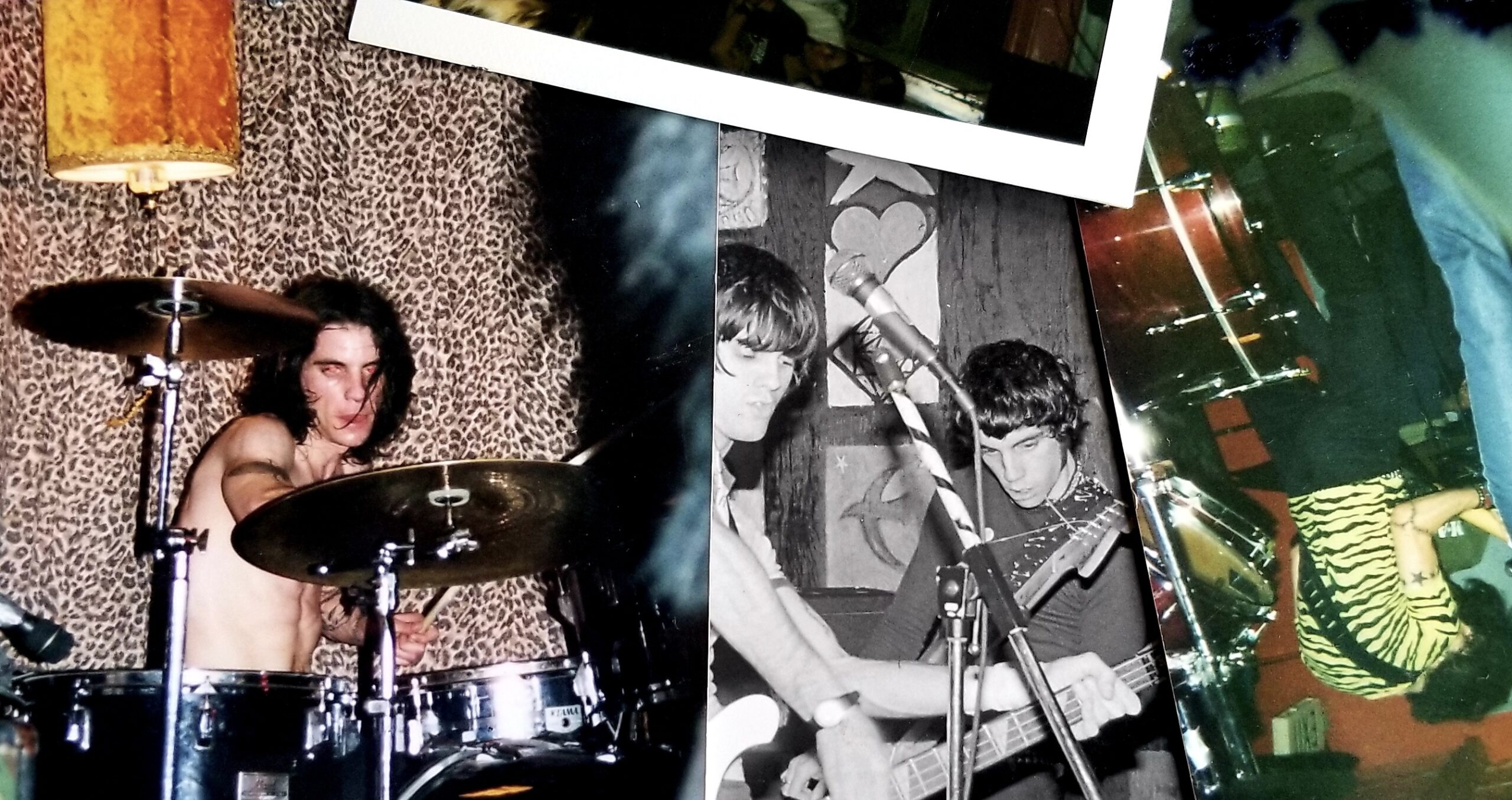 Gabe,
I will remember you like a live electric wire sparking untamed in the middle of a dark highway. I will remember you like a UFO visiting us briefly, leaving a trail of beautiful light sprayed across the sky like gems. I will remember you standing on stage sharing a mic with Bobby, both of you on guitar when Dave was still in the Locust and you're leaning back and Bobby's screaming into the mic then Bobby's leaning back and you're screaming back and forth like a seesaw or like two hungry raptors taking turns on the same bloody piece of prey. That was the first time I saw you—on stage at the Ché Café, standing between Justin and Bobby. I left that night forever changed. Ecstatic, thrilled, full of purpose and new ideas.
I never told you this, but I was afraid of you before we met. Not afraid in a bad way but afraid like a good horror film. Where you enjoy it. Where being scared feels liberating. You seemed (and truly were, and still are) larger than life. You were raw and vibrant and pure. You were tuned into strange, uneasy frequencies most mortals shy away from. Seeing you play shows felt like watching Johnny Thunders or Stiv Bators or Darby Crash in their finest annihilating prime. I'm thinking now of my favorite Lou Reed lyric, "oh baby you're so vicious." Because you were a howling animal on stage—ferocious, powerful, monstrous.
You were also the sort of open, giving, sweet guy who's exceedingly rare on this planet. You had a way of making people feel welcome. Like they were in the right place. Like they were invited, wanted, appreciated. That's a lovely gift to give. You also helped me and so many others just by BEING. Knowing that you were out there walking the Earth—strong, full of that wild inner heat like some sci-fi engine, truly punk, relentlessly yourself—gave me and so many others a special kind of courage. Your very existence felt like a shield against all the arrows in the entire world, all the insults, all the awful facts.
I will remember you on stage or walking into Pokéz or into a party in an absolutely bizarre neon green tiger stripe shirt or a weird pair of laced-up leather pants from the girls' section and how whatever it was always looked fantastic on you. I will remember you as San Diego's David Bowie. I will remember you finding me as I wandered the backstage halls at a Head Wound City show in some muggy Southern state the year Trump was elected. I hadn't slept for a long time and my shitty brain was eating me from the inside like violent worms. You grabbed my arm and yelled "Hey! Gnade! What?! You're here!" and all the bad shit went away. I'll remember how your sense of humor had a magnetic quality people were drawn to. When you were in a good mood you glowed like a lamp. (I will also remember you less than happy and how I related to that, how it made me feel not as damaged or alone knowing you felt that way too.) I will remember you as you were the last time we spoke—backstage at House of Blues in San Diego for the short run of Locust dates this past December. You seemed relaxed and happy and I remember thinking you looked 10 years younger than I'd previously seen you, like you had begun to defy the laws of time. It felt good to see you like that, and then you went out on stage and played one of the most brutal and transcendent sets I've seen in my life. It was the first show I'd seen since lockdown began and I rode on that high for months.
I will remember you destroying conceptions of what music can be in your work with Retox, Cattle Decapitation, Rats Eyes, Wet Lungs, Zu, Kata, Holy Molar, The Locust, Head Wound City, and the beautiful record you made with Luke Henshaw, Variations in the Key of the Afterlife. Every show, every record is sizzled into the DNA of so many of us. You are a part of the fabric that makes us who we are. So, I won't say goodbye. You're still here with us. You're close enough that I can hear your voice, your laugh. Then it's your music I hear and when I hear your music I'm home even if I'm a million miles away. I love you, Gabe Serbian. Always.