12.20
Unholy Advent Calendar: A Busy Week of Goddamn Birthdays, Dec 1st through 7th
This week is jam-packed with release date anniversaries for Three One G bands. Starting December 1st, and running until the 7th, there are 15 separate releases celebrating birthdays. All deserve your attention. All deserve your love.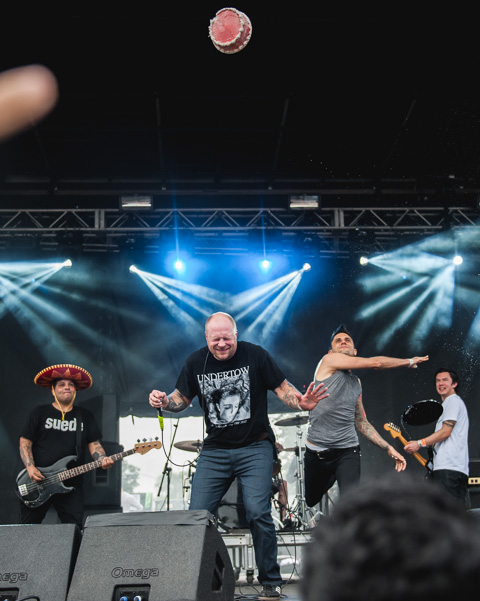 They are as follows:
DEC 1st
12/1/1998 Jenny Piccolo's Lowest Common Denominator 7" EP
First up we have 13 pieces of Jenny Piccolo's trademark speed, power, and destructive pummel. Formed after the breakup of cult heroes Mohinder, Jenny Piccolo toured nonstop (often with their sister band The Locust) and put out a ton of tight, fast, savage, heavy work—this, arguably, being the band's best collection of songs. The Lowest Common Denominator 7" was Three One G's 8th release and it sounds just as big, timeless, and fang-grittingly brutal as it did 22 years ago. Happy birthday to you.
DEC 2nd
12/2/1997 Jenny Piccolo's Information Battle to Denounce the Genocide LP
The second of Jenny Piccolo's four releases during this big week, Information Battle to Denounce the Genocide saw the band stretching out into LP form (though some of these songs are as short as 10 seconds), offering brief, vigorous, spiky bursts of power violence. Stand-out tracks here are numerous. ("Numerous" said with four "u"s instead of one. Extend those vowels to show your approval, human.)
12/2/2003 Holy Molar's 10" EP
Holy Molar's 10" picture disc is one of Three One G's best-looking releases—featuring a blood-spattered tooth on clear vinyl. The seven songs here are weird, catchy, contorted pop songs that you can pretend come from a planet where no pop music exists and campy humor, total disaster, and frantic experimentation are the order of the day and the law of the land. Pairs well with: hearty winter soups, novocaine, and burning cop cars.
12/2/2014 Narrows, Retox Split 7"
The Narrows, Retox split shows two of hardcore's bravest, most bullshit-free acts teaming up to destroy expectations and wipe your memory clear of bad shit that came before. With members of Botch, These Arms Are Snakes, and Unbroken, Narrows is sleek, propulsive, and takes no shit and/or prisoners. Retox is of course the unfuckwithable Retox (RIP) and here we'll play some taps on the trumpet for a much-lamented band that is gone before its time but heavily prolific, releasing some of hardcore's finest LPs (especially the outstandingly good Beneath California). Here they give us the angular skronk of "This Should Hurt a Little Bit" and a cover of the Cure's "Fascination Street" that sounds both faithful to the original and widely/wildly removed from the primary source material.

12/2/2016 Doomsday Student's A Self-Help Tragedy LP
Doomsday Student's A Self-Help Tragedy LP will give you a seizure as it seizures through these eight songs, only it won't feel like a seizure at all. It will be more like falling in love or falling into a black hole or a meatgrinder while also falling in love. Oh, and it has a Christmas song and if you haven't seen the video for "Angry Christmas," you need to remedy that shit post-haste. Go watch it or go home, Scrooge McDick. Was he the one who swam in money or was that Uncle Scrooge? All these fucking ducks confuse me. Regardless, this is truth: Doomsday Student's music feels like swimming in money when your life is like a hurricane.
DEC 3rd
12/3/1996 Locust, Jenny Piccolo Split 5"
The sole Three One G release to hit stores on the 3rd of December, this split with the Locust (then just "Locust") and first-week-of-December-birthday regulars Jenny Piccolo was the label's fourth release. Originally issued as a 5" vinyl picture disc, a three-song Locust CD version is also available and that CD is in the shape of a square (which is just like you if you don't know this record already). This release shows a very early incarnation of the Locust viciously eating the plaster off your walls with caustic, vibrating laser pulse blast-beat spaz while Jenny Piccolo's four contributions are classic Jenny Pic megabeast claw-into-yer-chest violence, hinting at the complex, annihilating perfection that would come on later albums.
DEC 4th
12/4/2001 Black Dice's "Ball" B/W "Peace in the Valley" Book/7" Single
Black Dice's two tracks here show the band as it transitioned from avant-hardcore fragmento deconstructivists to the heady peyote fever dreamers they were on later records like 2002's excellent Beaches & Canyons and the Miles of Smiles EP. This one comes with a full-color art book, and the combination of the music, art, and packaging is pretty fuckin' next level. In 2001 I can personally attest that this sounded like nothing else around—some kinda psyche bummertrip b-movie trance soundtrack that was (and still is) wildly replayable. (One time I fell asleep standing up at a Black Dice show from this era. In a good way, and totally sober. I'll tell you about it later.)
12/4/2001 Holy Molar's Live at the San Diego Metropolitan Correctional Center 7" EP
Molar's pseudo live record bent the formula of recorded-at-a-prison albums like Johnny Cash's Live at San Quentin and created a sort of camp Situationist farce. Ridiculously catchy, hilarious, wall-to-wall strange, these six songs sound like something made by evil cheerleaders playing a show for Satan's honor (and maybe stealing his wife and his cool gray Volvo on the way out of town).
12/4/2001 Asterisk*, Jenny Piccolo's 10" Split EP
This split is a fantastic thing to behold. Swedish grind-riff destroyers Asterisk* (also regulars at the Three One G December All-You-Can-Eat Salad Bar and Birthday Buffet) alongside Nor. Cal. power violence massacre-punks Jenny Piccolo. It's too bad Asterisk* never toured (or played outside of Northern Sweden) because a double-header of these two monsters would be a dream that gives you nightmares and a nightmare that gives you dreams.
DEC 5th
12/5/1995 Spanakorzo, Swing Kids 10" Split EP
December 5th has (historically) been a great day for Three One G releases. Kicking off the day is the Spanakorzo, Swing Kids split 10" EP. Featuring members of Sweep the Leg Johnny, split partners Swing Kids, and Second Story Window, Spanakorzo are San Diego hardcore icons (with a picture on the wall at Pokez, no less), pairing classic 619 858 760 hardcore with gothy post-punk in the most delightful way like a spoonful of sugar shoved down your throat to chase the psyche meds. Swing Kids' three songs on this split are three of the band's best—lean, barbed, rough, and purposeful—"Forty Three Seconds" being one of the band's most engagingly, satisfyingly repetitious (like a punk Kraut-rock) and characteristically sharp-edged.
12/5/1995 Unbroken's "Circa '77" 7" Single
Unbroken is haaaands fuckin' down one of the finest bands to come out of the Three One G catalog. Metallic hardcore, politically-driven lyrics, one hell of a guitar player in the form of the late, great Eric Allen, Unbroken might be one of those rare perfect bands. This group of fine dudes dwells canyon-deep in the hearts of many, and for good reason. Wave that flag high, friends. Kids + united = never divided. You know.

12/5/2000 Asterisk*'s Dogma 1: Death of a Dromologist LP
This LP collects 23 of these Swedes' heaviest and finest. This is exactly what you want Swedish music to sound like. Unless you want ABBA. But for those with the right kind of ears, Asterisk* is just as catchy as ABBA. While ABBA might feed you cocaine off ruby trays in the shape of giant ears and let you try on their tight silver pants and diamond headbands, these particular dancing queens might tie you to an ancient stone pillar and suck your eyes out of your head before burning every church in a 100-mile radius. So, yeah, FAIR WARNING. Also, "Dromology" is defined as the science and logic of speed. Think about what that means for a while.
DEC 6th
12/6/1994 Unbroken's "And" B/W "Fall on Proverb" 7" Single
December 6th is a hugely important day for Three One G. Unbroken's "And" B/W "Fall on Proverb" 7", still in print today after many pressings, is a testament to the inclusive power of hardcore. This is a band to fall in love with, to give your heart to, then sweat and bleed in the pit as they slay it on stage. Unbroken is one of those "them that know KNOW" bands. Chances are you already get it. If not, there's a beautiful gold vinyl 7" waiting for you with these two songs on it.
12/6/1994 Swing Kids' 7" EP
Swings Kids' 7" EP was Three One G's second release and contains one of THE finest five-song progressions ever (intact at the beginning of the recent Anthology LP, no less), starting with the free-jazz-leaning "Disease," then the menacing opening notes of "Line #1" which then combust into San Diego hardcore glory before kicking into "Clean Shade of Dirty," the Joy Division cover "Warsaw," and "Blue Note," which sees the band delivering one of its finest anthems. This 7" makes me proud to be from San Diego and I spent many years very much NOT being that. In the words of an old Channel 8 News commercial that I have for some fucking reason never forgot: "Makes no difference where I go/you're the best hometown I know/hello, San Diego, hello, San Diego/Channel 8 loves you." Only substitute "Channel 8" with "Adam Gnade" or Three One G or maybe your name too.
DEC 7th
12/7/1999 The Crimson Curse, The Festival of the Dead Deer 7" EP
In 1999, one of Three One G's most beloved splits hit the shelves. The Curse and Festival split shows two of the label's darkest, nastiest, most fucked-up bands doing seedy and nefarious deeds under the cloak of strange darkness. What exactly does that mean? I don't fuckin' know, but there's something gross and sinister in the dry Santa Ana breeze tonight and you're going to love it. Or you'll be afraid, and I imagine the bands themselves would have loved THAT. Punk should always be this mean. Fun should always be this weird.
12/7/10 Rats Eyes "II" 7" EP
Proof that Gabe Serbian can do pretty much anything, Rats Eyes is Gabe on vocals along with Jason Blackmore (Sirhan Sirhan, guitar), Jimmy Armbrust (Louis XIV, bass), and John Cota (Hostile Comb-Over, City of Whores, drums). "II" is 12 tracks over the course of a single 7" and showcases some of the sickest, fastest, classic '80s-style hardcore ever to be laid to vinyl. It's also got one of the greatest song-titles in the history of song-titles: "Dickheads Guide to Asshole Island."
So, there's your week—spend it listening to these records and raise a glass or a fist or a middle finger to the power of righteous, lawless noise. Happy birthday to all this. Glad it's here. I, for one, am better for it. Maybe you are too. – Adam Gnade